Mario Testino and Bruce Weber accused of sexual exploitation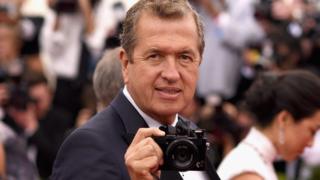 Leading fashion photographers Mario Testino and Bruce Weber have been accused of sexually exploiting male models and assistants.
A series of allegations have been levelled against the pair in an article in the New York Times.
Conde Nast – which publishes magazines including Vogue – has suspended all work with both photographers.
Weber denies the claims, while lawyers for Testino said his accusers "cannot be considered reliable sources".
In a statement to the paper from his lawyer, Weber said he was "shocked and saddened by the outrageous claims being made against me, which I absolutely deny".
Testino, whose past subjects include Kate Moss, Madonna, Michelle Obama and members of the Royal Family, was accused by 13 male assistants and models of subjecting them to sexual advances.
The paper reported that the legal firm representing Testino, 63, said those complaining of harassment could not be considered reliable, and that his lawyers had spoken to several former employees who were "shocked by the allegations" and "could not confirm any of the claims".
'Sexual predator'
The allegations against Testino date back to the mid-1990s and include groping and masturbation, the paper reported.
Ryan Locke, a model who worked with Testino on Gucci campaigns, described him as a "sexual predator".
Hugo Tillman, a photographic assistant, said Testino pinned him down on a bed before being removed by another person.
Another assistant, Roman Barrett, said sexual harassment was a "constant reality".
He claims the photographer masturbated in front of him.
In 2014, the Peruvian photographer was awarded an honorary OBE for his services to photography and charity.
Testino has long had ties to the Royal Family, photographing Diana, Princess of Wales, and more recently the Duke and Duchess of Cambridge on their engagement and later, for the christening of Princess Charlotte.
He has worked with brands such as Burberry and Michael Kors and his photographs of Serena Williams and her newborn baby feature on the cover of the February edition of US Vogue.
US photographer Weber, 71, is accused by 15 current and former models of subjecting them to unnecessary nudity and coercive sexual behaviour, according to the New York Times.
Weber's work includes campaigns for Calvin Klein, Ralph Lauren and Abercrombie & Fitch as well as several films.
Men said to the paper that they had asked to participate in "breathing exercises" which could include inappropriate touching, while model Bobby Roache said Weber tried to put his hands down Roache's trousers during a casting in 2007.
Anna Wintour, artistic director of Conde Nast, which publishes Vogue and GQ, said the allegations against her "personal friends" had been "hard to hear and heartbreaking to confront".
She added that the publisher would not work with the pair for the "foreseeable future".