Mariah Carey to headline Livewire Festival in Blackpool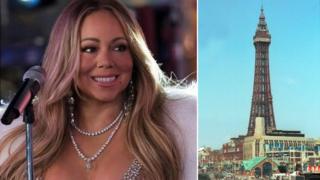 Mariah Carey has told Blackpool "I'll Be There" after agreeing to make her only UK appearance this year in the seaside town.
The American diva will jet over from Las Vegas to perform at the Tower Festival Headland Arena as part of the town's Livewire Festival.
The 23-27 August event will also feature Matt Goss and Boyz II Men.
Carey is one of the best-selling artists of all time, having sold more than 200 million records worldwide.
Gillian Campbell, deputy leader of Blackpool Council, said: "We are thrilled at the prospect of Mariah Carey performing live in Blackpool.
"She is a world-class artist and this promises to be another sensational Livewire event over the August Bank Holiday weekend."
Livewire Festival launched last year and saw acts including Will Smith and DJ Jazzy Jeff, and The Jacksons perform.
In April, the event suffered a blow as country music star Kenny Rogers was forced to pull out of his Saturday headline slot due to ill health.
Carey will not be the only star with a Las Vegas residency bringing their show to the town in the summer – a week after her performance, Britney Spears will take to the stage on the promenade at Blackpool Tower Festival Headland.