Margaret Thatcher set to lose out in Parliament Square statue battle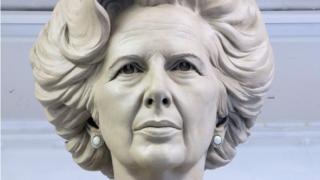 Margaret Thatcher looks set to lose out to two pioneering feminists in the battle to be the first woman to have a statue in Parliament Square.
Rival campaigns have battled for years to be first to put a statue of a woman in front of the Houses of Parliament.
The race was won by advocates of suffragist and trade union leader Millicent Fawcett.
She is set to join the 10 men in the square, including Sir Winston Churchill and Nelson Mandela, later this year.
A rival campaign, led by former Conservative MP Sir Neil Thorne, and backed by the first female Commons Speaker Baroness Boothroyd, argued Emmeline Pankhurst should have been immortalised in bronze instead, as she is far better known than Ms Fawcett.
Westminster Council has not ruled out a statue to Ms Pankhurst in the square at some stage – provided campaigners move an existing statute of the suffragette leader that stands in nearby Victoria Gardens first, but they seem to be less convinced of the case for a Thatcher monument, even though it has already been created by sculptor Douglas Jennings.
Advocates of a Lady Thatcher statue stayed out of the Pankhurst/Fawcett battle, despite a planning application for a monument to Britain's first woman prime minister being considered by Westminster Council at the same time.
The council's planning committee is due to vote on the Thatcher proposal next Tuesday, but council officers have recommended refusal.
The Royal Parks Agency, which owns the land, and the Metropolitan Police have expressed concern that a Thatcher statue would attract protests.
The Royal Institution of Chartered Surveyors also objected to having a statue of the Iron Lady near its Parliament Square headquarters because she was a "controversial character" who would be likely to be a target for vandalism and "abuse".
"This could easily extend to our building and, potentially, to our staff and professional members who use the building.
"There is a physical risk if projectiles are thrown at the statue and hit the building and/or individuals direct," said RICS in its submission to the council.
But council sources say the biggest factor influencing the decision – apart from there already being too many statues in the area – is likely to be the fact that the Thatcher family had objected to the design.
Officials also cited the "10-year rule", which suggests monuments to leaders should not be erected until at least a decade after their death, although this rule was broken to allow a statue of Nelson Mandela in 2007.
Richard Beddoe, chairman of Westminster City Council planning, said: "The council is unable to comment on outstanding planning applications. This scheme will be considered on its merits and in line with council policy at our planning committee on 23 January."
The Millicent Fawcett statue, designed by Turner Prize-winning artist Gillian Wearing, will commemorate the centenary of women winning the right to vote.
The original design had to be amended as councillors were concerned Ms Fawcett – who is carrying a banner reading "courage calls to courage everywhere" – looked like she was hanging out washing, according to the Daily Telegraph.
Ms Pankhurst favoured more radical and militant tactics than Ms Fawcett, who founded the National Union of Women's Suffrage Societies in 1897, in the battle to win women the vote.
Historian and sociologist Pamela Cox, who presented two BBC documentary series' Shopgirls and Servants, argued that both women should be commemorated in bronze.
"There are so few statues of women in the capital – and indeed – across the country. We can surely afford to commemorate both de facto leaders of the women's suffrage campaign," said Ms Cox, in a submission to the council.
But Westminster Council said the existing statue of Ms Pankhurst would have to be moved before they would consider erecting another one in the square opposite Parliament.