Manchester Piccadilly railway reopens after protest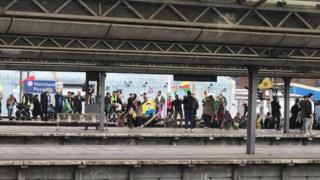 Manchester Piccadilly railway station has reopened after about 100 protesters stormed the railway lines.
Campaigners blocked the tracks and some tried to climb overhead line equipment, National Rail said.
Crowds of people thought to be opposed to Turkey's war with Syrian Kurds held banners which read "stop Turkey from helping ISIS terrorists".
Virgin Trains said protesters had been removed and services have resumed. Some may be subject to alterations.
Supt Mark Cleland, of British Transport Police (BTP), said: "While we appreciate and respect the right to peaceful protest, when this compromises the safety of the public and the protesters themselves, any offenders will attract the full investigative resources of BTP.
"Those involved in this afternoon's incident will be subject to intense investigation with a view to arrest and prosecution.
"We will continue to maintain a police presence at this station and at other stations across the rail network."
Officers were called to reports 100 people were protesting at the station shortly after 13:00 GMT.
One passenger tweeted she was stuck on a packed train at Piccadilly station "going nowhere" when the railway line protest started.
She said protesters were holding up their babies and taking photos of each other on the tracks.
Sophy Colbert said on Twitter there was "around 100 people on the tracks" and it was "getting a bit heated".
She was handed a leaflet entitled "Stop Turkey's war crimes and crime against humanity".
The closure caused disruption elsewhere, with Russ Neil tweeting: "Stockport rammed now with people attempting to get back to Euston."
The Leeds to Manchester Airport service was also affected.
BBC North presenter Luxmy Gopalakrishnan tweeted: "People queuing for the next available replacement bus at Stalybridge station after Manchester Airport train terminated here due to protesters on rails at Piccadilly."