Manchester Arena attack: Police officers 'badly affected'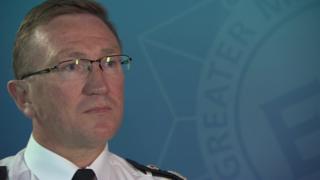 Officers "had to do things nobody should ever have to do" during the Manchester Arena bombing, said Greater Manchester Police's chief constable.
About 1,000 officers have been through the force's welfare programme with some "badly affected", Ian Hopkins said.
He also revealed he shed tears after talking with the families of the 22 victims murdered on 22 May last year.
The upcoming anniversary was a time to think about the victims' families and those "massively traumatised", he said.
Suicide bomber Salman Abedi detonated a home-made device at 22:31 BST as 14,000 people streamed out of an Ariana Grande concert, leaving more than 700 injured.
Mr Hopkins, head of the force since 2015, said "in moments of quietness" he shed tears after meeting loved ones of the victims, many of them children.
"They are very courageous people… it was about hearing their hopes and aspirations that they had for their loved ones and those being torn away, brutally torn away, that was one of the most difficult periods, yes."
He said it was "really terrible" and some of his colleagues "saw things and had to do things that nobody should ever have to do" but "don't want to speak about, certainly not publicly".
A very small number were receiving specialist help for post traumatic stress disorder, he said.
Speaking ahead of events planned to mark the first anniversary of the bombing next Tuesday, he said the murder investigation has been "phenomenal in terms of its scale and complexity".
"We've always had the resources… there was a time for about two weeks where we had about 220 officers a day helping us here.
"Not only at the time did we get the counter terrorist resources all around the country but we also got support from every single police force in England, Wales and Scotland," he said.
Remembering the night, he said his "immediate reaction was just one of anger" after he took a call at home from a deputy within minutes of the attack.
He said "people were angry and I talked about my anger, but that very quickly turned to defiance and it turned to hope" in the days and weeks after.
Mr Hopkins said he was proud of the way his officers dealt with the attack when there was "so much uncertainty at the time, reports coming in of gunshots being heard, suspicious packages".
"Some of the really memorable pictures from my perspective were people running away from the arena, and quite rightly, but my officers running towards it."
He said every member of staff has been given a Manchester bee tie pin to thank them for their work.