Man killed as car hits people outside Stockport club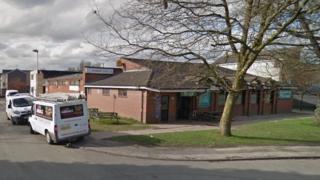 A murder investigation has been launched after a man died and several more were injured when a car hit pedestrians in Greater Manchester.
They were struck at the Salisbury Club in Truro Avenue, Stockport, at about 22:45 BST on Sunday.
The victim, believed to be in his 30s died in hospital. The car driver fled and the vehicle was found abandoned in the middle lane of the M60.
The incident is not being treated as terror-related.
The driver of the car, thought to be a black Audi A4, is thought to have scaled the fence next to the M60, close to the Redrock centre in Stockport town centre, and run away, police said.
Det Insp Kris Williams said: "We've already spoken to a number of witnesses in the area and will continue to do so to build a fuller picture of what has exactly happened.
"From what we know so far, we believe the driver of the car scaled the fence next to the M60 and ran away.
"My thoughts go out to the man's family who sadly have to deal with the tragic news that their loved one has died."
Brinnington Road between Manor Road and Northumberland Road remains closed while investigations take place.