Man 'bites head off pigeon' in shocking footage
Disturbing footage shows a white man in a yellow hi-vis jacket hitting the bird with a stick before using his teeth to decapitate it.
The animal charity said the pigeon would have been subjected to "unimaginable" suffering if the video footage is as it appears.
The man, who looks to be in his forties, is shown knocking the bird from its nesting place with a stick before grabbing it flapping from the floor and biting its head from its body.
He then spits the head out of his mouth and throws the decapitated body to the ground.
The video shows the man picking up the bird, which is still moving, to pose before walking away.
Another man can be seen in the background and laughter can be heard.
Speaking to Sky News, Llewelyn Lowen, RSPCA wildlife expert, said: "This video seems to show a particularly callous and deliberate act of animal cruelty.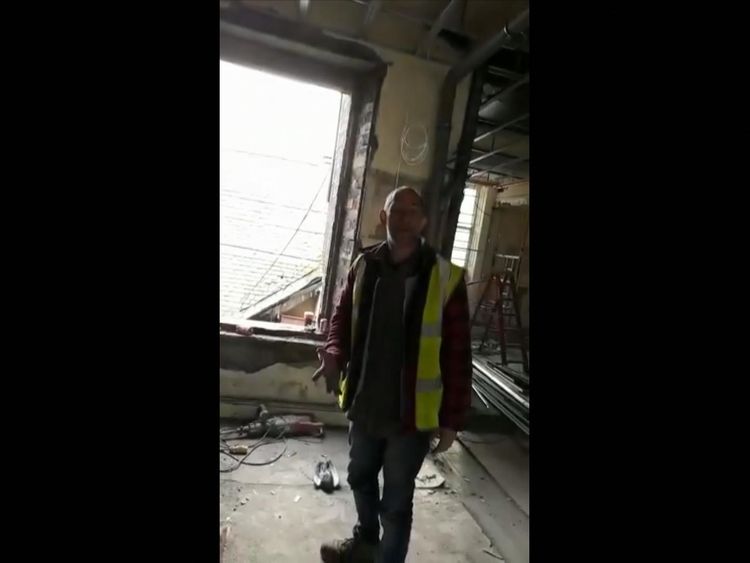 "RSPCA officers across England and Wales investigate a wide-range of cruelty complaints each and every day, but an attack of this nature on a wild animal is, thankfully, exceptionally rare."
It is not known where the video was filmed, although the men appear to be on a building site and have been described as having northern accents.
The RSPCA said the footage had been sent in from someone in Wales.
"This is a deeply shocking, disturbing and distressing video, appearing to show a man biting the head off a live pigeon," said Dermot Murphy, assistant director of the RSPCA inspectorate.
"If what this video seems to show is accurate, the pain and suffering caused to the pigeon is likely to have been unimaginable.
"We're very eager for information identifying the individual involved, or providing related background, to be brought to our attention as a matter of urgency.
"It has been suggested to us that the incident may have links to either the North of England, or Wales.
More from UK



Dad found hanged after two sons killed in hit-and-run, coroner hears




Carluccio's restructuring could see dozens of restaurants close




Man admits Prince George plot after changing plea mid-trial




Roman Abramovich drops Chelsea's £1bn Stamford Bridge expansion plan




Women swallow abortion pills at pro-choice Belfast protest




House of Fraser lenders demand new funds as CVA looms
"However, we are eager for any information which could assist with our inquiries on this serious matter."
:: Anyone with information is asked to call the RSPCA's inspectorate appeal line on 0300 123 8018.