Man, 34, set up as Blackpool FC mascot on stag do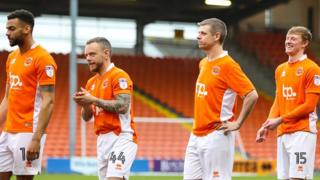 A man on his stag do was tricked into being a football mascot by his friends.
Blackpool FC players saw the funny side as 6ft 2in Kevin Stuart, aged 34, towered over them and younger mascots at Saturday's home game against Bradford City.
Stitched up by his friends, he accompanied midfielder Jay Spearing while wearing a smart pair of shoes.
Bradford City photographer Thomas Gadd said Mr Stuart looked "proper nervous" before acknowledging the crowd.
The pictures of Mr Stuart, who also plays as a central defender for Dufftown FC in the Scottish Junior Football Association, were shared widely online.
The lanky stag was paired with 5ft 5in Jay Spearing when the players ran out.
It seems he proved to be a lucky mascot as the Seasiders went on to beat Bradford City 5-0.
Spearing wrote on Instagram that Mr Stuart's presence as a mascot was "a little different to what you expect".
In January, 38-year-old Wolverhampton Wanderers fan Nick Goff became a mascot for Brentford FC, in a similar prank on a stag weekend.
Prince William was also seen at a Blackpool FC match during a friend's stag do in 2010, although in the more discreet hospitality seats.