Major Forties oil pipeline to be closed for repairs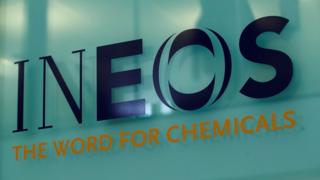 One of the UK's most important oil pipelines is being closed after a crack was discovered in Aberdeenshire.
The Forties pipeline carries crude North Sea oil across land for processing at Grangemouth.
The crack was discovered last week at Red Moss near Netherley.
The pipeline's owner Ineos said on Monday that, despite pressure being reduced, the crack had extended. The Forties pipeline carries about 40% of North Sea crude oil.
More than 80 platforms will have to shut down production.
Ineos said there would be a big impact on the industry but not on consumers.
The pipeline could be shut down for about three weeks.
'Suitable repair method'
Ineos said in a statement: "Last week during a routine inspection Ineos contractors discovered a small hairline crack in the pipe at Red Moss near Netherley.
"A repair and oil spill response team was mobilised on Wednesday, after a very small amount of oil seepage was reported.
"Measures to contain the seepage were put in place, no oil has been detected entering the environment and the pipe has been continuously monitored."
The company added: "A 300m cordon was set-up and a small number of local residents were placed in temporary accommodation as precautionary measure. The pipeline pressure was reduced while a full assessment of the situation was made.
"The incident management team has now decided that a controlled shutdown of the pipeline is the safest way to proceed."
Ineos said the shutdown would "allow for a suitable repair method to be worked up based on the latest inspection data, while reducing the risk of injury to staff and the environment".