Maduro says that Delcy Rodr í guez went to countries, including Spain, to "talk very interesting things"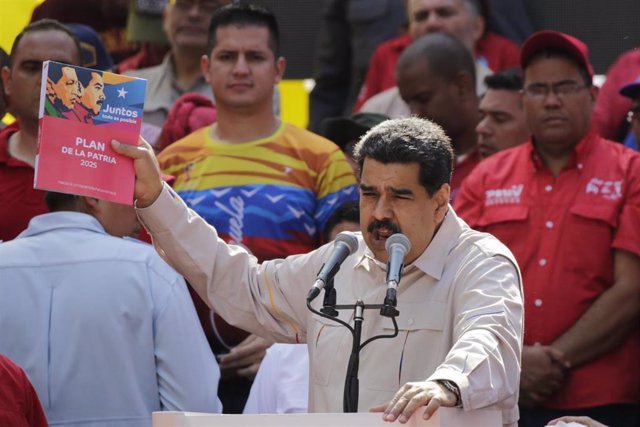 The President of Venezuela, Nicolás Maduro – GETTY IMAGES / EVA MARIE UZCATEGUI – Archive
He says "to the right of Vox, the PP and Franco" to "calm the nerves and stop the persecution against Venezuela"
MADRID, Feb. 14 (EUROPE PRESS) –
The president of Venezuela, Nicolás Maduro, has revealed on Friday that his vice president, Delcy Rodríguez, went "silently" to countries during his recent international tour to "talk about very interesting things" that he has not specified, ironing that in Spain, for where it happened, "they have made a novel, the 'Delcygate'".
"He went to some countries in public and met, and in others he went in silence to discuss very interesting things that we are developing with other countries of the world," he told a press conference from the Miraflores Palace without giving more details.
Shortly before, in the same appearance, Maduro has revealed that he has moved to Spain and other "friendly governments", among which he has also mentioned Argentina, Mexico, Panama, Russia and the EU, his proposal to create a group of "countries Friends "that is responsible for promoting dialogue in Venezuela.
Maduro's idea is that this group favors the holding of "an inclusive and sovereign dialogue (…) to strengthen democracy" in Venezuela that develops "before, during and after" the parliamentary elections planned for this year in the Caribbean nation
The 'Chavista' leader has emphasized the importance of this eventual dialogue taking place before said elections in order to form a National Electoral Council (CNE) "of consensus".
In addition, he considered that "this dialogue process should know all the actions before the International Criminal Court (ICC) to demand the cessation of all coercive measures against Venezuela by the Government of the United States."
Maduro has thus referred to the complaint filed Thursday by his Foreign Minister, Jorge Arreaza, before the ICC for the alleged crimes against humanity caused by the US sanctions against Venezuela, which he considers "illegal."
"Hopefully that group of friendly countries will tell you, make you understand and defend before the United States Government the right of Venezuela to its economic development without persecutory, coercive, criminal measures … It would be a great issue," he suggested.
Likewise, the Venezuelan president has indicated that Arreaza, as his Foreign Minister, "is the head of the dialogues," so "he is in contact with the friendly governments of the world with whom this type of efforts are being made."
Maduro has also confirmed that Rodriguez "went through the airport of Spain" in the framework of this international tour and "left the Minister of Tourism, who was officially invited to FITUR" and took the opportunity to meet the King, "ministers" and businessmen which, he said, "want to invest in Venezuela" and "are welcome."
In Maduro's opinion, all this "has nothing out of the ordinary", despite which – he has criticized – "in Spain they have made a novel, the 'Delcygate'", alluding to the meeting held at the Madrid airport of Barajas between Rodríguez and the Minister of Transportation, José Luis Ábalos.
Asked directly about this meeting, Maduro has chosen to maintain the ironic tone. "That is Delcy's secret, she hasn't told me that secret, what did she talk to Ábalos," he replied.
Already more serious, he has framed the "Delcygate" in "a permanent campaign in Spain against Venezuela" which he has attributed to "the Spanish right who believes that Franco is alive." "So, if the vice president goes to Spain, you have to stop her, humiliate her and kick her out, that's the vision of Franco," he denounced.
Maduro has been especially upset because, as he has argued, "Delcy is almost European," recalling that he lived six years in London and five in Paris, "speaks perfect English and French and all his friendships are European." "She almost has a European passport," he joked.
With all this, the tenant of Miraflores has turned to "the right of Vox, the PP and Franco" to "calm the nerves and leave the persecution against Venezuela."