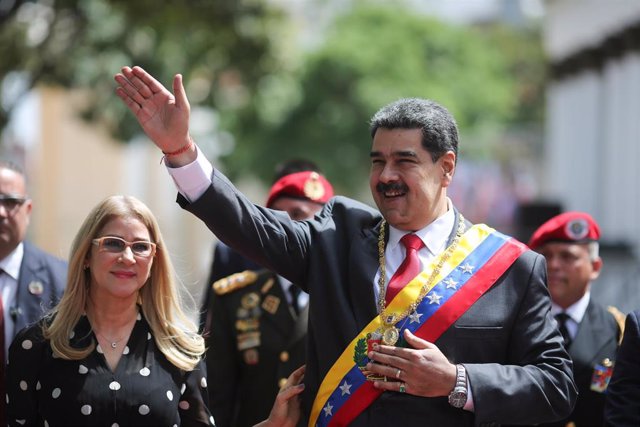 The Venezuelan president, Nicolás Maduro. – Marcelo Garcia / Miraflores Press / DPA
MADRID, Jan. 14 (EUROPE PRESS) –
The president of Venezuela, Nicolás Maduro, has proposed on Tuesday to the National Dialogue Table, made up of government delegates and representatives of the minority opposition, to invite the European Union and the United Nations as observers of the legislative elections planned for this year.
Maduro proposes to the Dialogue Table to invite the EU and the UN as observers of the legislatures in Venezuela
"I take advantage of this platform from now on, to propose to the electoral power that the European Union, the UN Secretary General, the African Union and all world organizations be invited extensively … to come and see how the The people of Venezuela, a free people, choose their new National Assembly (AN), "Maduro said during the presentation of his 2019 Report and Account before the National Constituent Assembly (ANC).
In this regard, he said he agreed to "prepare the broadest guarantees, more than they have yet had, because we must not forget that with this National Electoral Council the elections were held that the opposition won broadly in 2015 ". "I agree to give more guarantees. If you want to come from all over the world to know about our elections, welcome. For that there is a protocol," he said.
Maduro, who has thus alluded to the opening of doors "to international accompaniment", has further asserted that the events occurred on January 5 in the Federal Legislative Palace when a vote was held to elect the new board of the AN , controlled by the opposition, are the result of "a set of failed policies, internal corruption, inconsistencies and defeats."
Thus, he said that a sector of the same opposition chose another board of directors for the AN. Luis Parra was elected president of the National Assembly with the votes of 81 of the 167 members of the chamber in a session in parliamentary headquarters without Guaidó or several of his relatives being present due to the police blockade.
Subsequently, the opposition leader Juan Guaidó was re-elected president in an alternative session held in the editorial of the newspaper 'El Nacional' with 100 votes in favor. For the re-election a quorum of 84 deputies is necessary, a majority of the 167 members of the Chamber, but Parra says he had the quorum since he was voted 81 of the 150 deputies present.
The bicefalia in the Parliament is part of the pulse that Guaidó and Nicolás Maduro have maintained for a year to be recognized by the international community as the legitimate president of Venezuela.