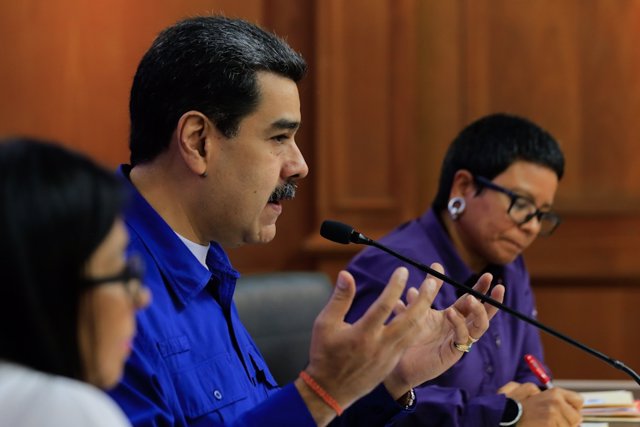 The President of Venezuela, Nicolás Maduro – PRESIDENCIA VENEZUELA
MADRID, Jan. 23 (EUROPE PRESS) –
The president of Venezuela, Nicolás Maduro, said Wednesday that "being slaves of the US empire" and "the Colombian oligarchy" are not alternatives, and has criticized that there are political "lackeys and deliveries" in the country who kneel and enslave before Colombia. "
"They want to offer us alternatives to be slaves of the US empire and the Colombian oligarchy and we strongly refuse," well, as you have pointed out, "it is one of the most insignificant things there is."
"I invite all American media that want to come to see the Venezuelan reality to visit us. More may the light, however small, illuminate all the darkness that inoculates us from outside," said Maduro, who has returned to defend that "in Venezuela there is no dictatorship."
The president of Venezuela has manifested in this way while visiting a state company in the city of Guarenas, in northern Venezuela, where he has also defended the need to support SMEs, as well as promoting a "self-management model", to help overcome the current economic situation, since "small and medium-sized enterprises are the columns of economic growth for the year 2020".
Maduro has highlighted how the almost 14,500 SMEs that now operate in Venezuela are those that create "economic power" and give work and livelihood to the population, as the images of the Venezuelan television network have shown.
"That is economic power, millions of workers, thousands of entrepreneurs; they have SMEs with all the support," President Maduro said during his visit.
The Venezuelan leader has insisted on the need to find alternatives to exports, considering that the country is being harassed by foreign economic and financial forces.
Maduro has also recalled how the Government ended in 2014 with the National Currency Administration Commission (CADIVI), the body responsible for managing the citizens' currencies, and which caused a strong inflation in the national economy that at first was not seen reflected due to high oil prices.
"We ended up with that model. CADIVI will never come back, that model is over," he insisted, while defending the need to promote a "self-management model" and production, with which to invest and share the profits .