Maduro celebrates resumption of ties with Colombia with arrival of Petro
Venezuelan President Nicolás Maduro celebrated the announcement of the resumption of relations between Caracas and Bogotá in anticipation of the inauguration of Colombia's next President, Gustavo Petro.
Maduro has described as "successful" Thursday's meeting between Venezuelan Foreign Minister Carlos Faría and Álvaro Leyva, who will be his counterpart from next Sunday, when Petro is sworn in as president.
"Colombia and Venezuela meet again in peace, in love, in freedom and looking to the future. It was a successful, virtuous, extraordinary meeting," President Maduro said, according to the Venezuelan newspaper El Universal.
Minister Faría and his future Colombian counterpart met for more than two hours on Thursday, during which they discussed, among other things, the resumption of bilateral relations.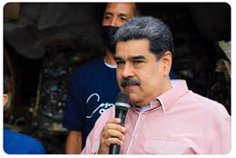 Maduro urges Venezuelan army to be alert to terrorist threats from Colombia
"They discussed 14 topics. All the opportunities that open up for the entire border and western region of the country. They talked about the progressive economic and commercial opening of the border or the plans for the future of the Union," confirmed Maduro.
Relations between Bogotá and Caracas have been strained throughout the tenure of current Colombian President Iván Duque, both due to accusations of harboring criminals and the lack of recognition of Maduro as Venezuela's head of state, while he supported Juan Guaidó as "acting president". .