Maduro announces surprise military maneuvers to keep the troops on alert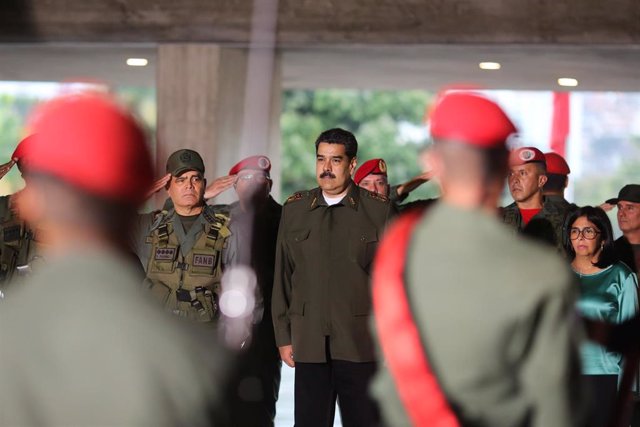 The President of Venezuela, Nicolás Maduro – Marcelo Garcia / Miraflores Press / DPA
MADRID, Feb. 18 (EUROPE PRESS) –
The president of Venezuela, Nicolás Maduro, has announced that the 2020 Bolivarian Shield military exercises will be maintained indefinitely to be activated by surprise with the aim of "strengthening the muscle" of the uniformed against external threats.
Maduro on Monday brought together the Venezuelan military high command to take stock of the Bolivarian Shield 2020 maneuvers, which took place between February 15 and 16 with 2.5 million combatants, between military and militiamen, throughout the country.
"It was an extraordinary effort that has concluded with total success," he said with military attire, stating that the Bolivarian National Armed Forces (FANB) is "in the best position to defend peace." "We must be proud," he said.
However, at the same time he stressed the need for the FANB to continue training to "strengthen the muscle." "I announce that the 2020 Bolivarian Shield military exercises will remain active," he said.
Maduro explained that they will "surprise". "From now on we will not notify the day of the military exercise nor the REDI (Strategic Region of Integral Defense)," he said. The commanders themselves will be informed shortly before to "activate all military force, police force and militia."
However, he said that, once initiated, the Venezuelan people will also be informed, even if it is early in the morning, by the defense minister, Vladimir Padrino López, so that they know that these are maneuvers.
"And that will be permanent to have peace and security," he said, insisting on the need to guarantee the defensive capacity of Venezuela against possible aggressions: "We must occupy spaces, gain awareness and values ​​in the defense of the territory."
In this regard, he also announced that on February 23 "the victory over foreign forces that sought to invade the country is going to be commemorated," alluding to the attempt of the self-proclaimed "president in charge of Venezuela, Juan Guaidó, of cross from Colombia with the humanitarian aid sent by your friendly countries.