Macron's candidate for mayor of Paris withdraws after the broadcast of an intimate video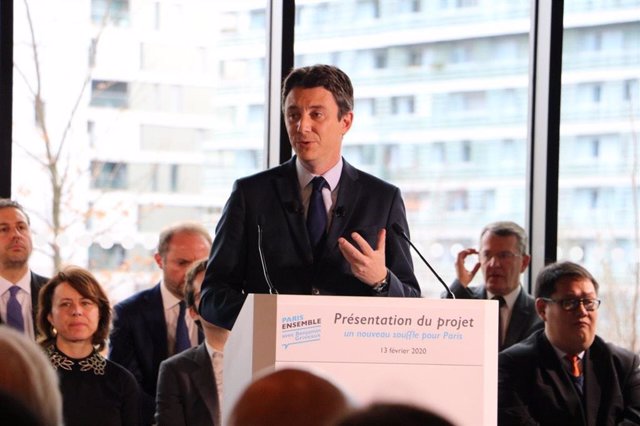 Benjamin Griveaux – ENSEMBLE PARIS
A Russian artist claims the publication and claims that he wanted to "denounce the hypocrisy" of Griveaux
PARIS, Feb. 14 (EUROPE PRESS) –
Benjamin Griveaux, candidate of the Republic in March (LREM) to the mayor of Paris, announced this Friday his withdrawal only one month from the election date, following the dissemination of a video of sexual content attributed to who was spokesman of the Government of Emmanuel Macron.
"For a year now, my family and I have suffered defamatory statements, lies, rumors, anonymous attacks, revelation of stolen private conversations and death threats. This torrent of mud has affected me, but above all it has bothered people who I want, "Griveaux laments in a video broadcast by the BFM TV network.
"As if this were not enough, a new level was overcome yesterday. An Internet portal and social networks have spread ignoble attacks that call into question my private life," adds the former candidate, referring to the video that has just precipitated its fall
Thus and given that the attacks have gone "too far", the Government spokesman has decided to take a step back. "That is why I have decided to withdraw my candidacy for the local elections in Paris," Griveaux confirmed, anointed by Macron after the internal pulse that emerged within the LREM.
Griveaux is confident that his departure will not harm the aspirations of the president's party – "this project will live better without me" -, although the truth is that, with the elections just around the corner – on 15 and 22 March–, the LREM sees how their chances of snatching the Socialist Party (PS) away from the last great symbol they have left.
The Russian artist Piotr Pavlenski, asylum seeker in France, has claimed in declarations to 'Libération' the dissemination of documents attributed to Griveaux. As he explained, the intimate video came from a "source" that had maintained a spoiled relationship with the former candidate.
"He is someone who is based on the permanence of family values, who says he wants to be the mayor of the families and always sets his wife and children as an example, but is quite the opposite," Pavlenski said. The artist explained that he wanted to "denounce hypocrisy."