Macron, Merkel and Johnson will soon meet Erdogan and also coordinate with Trump and Putin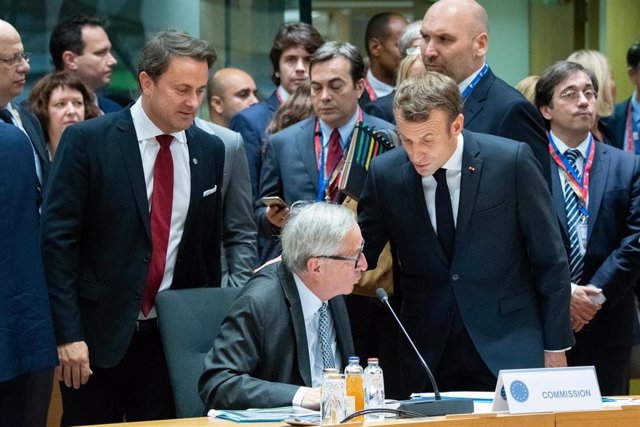 Emmanuel Macron and Jean-Claude Juncker – Christophe Licoppe / POOL BELGA / dp / DPA
BRUSSELS, Oct. 18 (DPA / EP) –
French President Emmanuel Macron announced on Friday that he has agreed with German Chancellor Angela Merkel and British Prime Minister Boris Johnson to meet in the coming weeks with Turkish President Recep Tayyip Erdogan.
Meanwhile, the three countries will coordinate closely to maintain contacts with Erdogan, the American president, Donald Trump, and the Russian president, Vladimir Putin, has indicated at the end of the EU summit in Brussels.
The meeting of the four leaders will also help "achieve coherence" about what NATO "can and should be at this time," said the Gallic president.
In this sense, Macron has said that he wants to remember "everyone who can forget, which would not be completely unjustifiable in this period, that Turkey is a member of NATO, something that should normally call a certain form of solidarity."
The French president has argued that the operation launched by Turkey against the Syrian Kurdish forces that fought against the Islamic State "raises questions about how NATO works."
Thus, he said that he learned "on Twitter (…) like everyone else" that the United States planned to withdraw from Syria and that Turkey planned to attack the Syrian Democratic Forces (SDS) leading the Kurdish militias.
"I think what happened in recent days was a serious mistake by the West and NATO in the region," he said. "I think it will weaken our credibility in the long term to find partners in the field that will fight on our side thinking they will be protected in the long term," he added.
Macron has considered it necessary to "understand where Turkey wants to go and how to return it to more reasonable positions that allow it to combine its internal security and its security objectives with respect to the (NATO) agenda and the solidarity that must exist within NATO ".