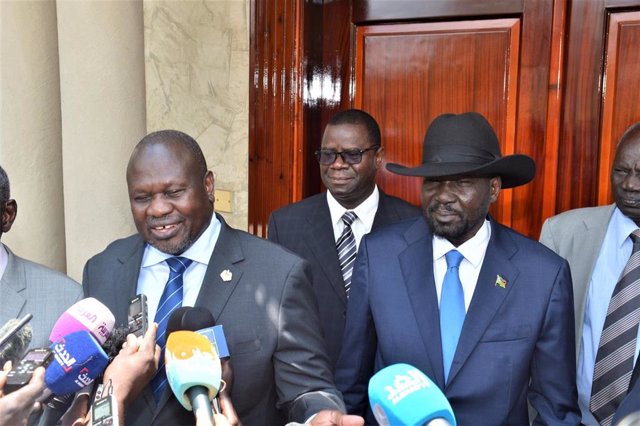 Salva Kiir and Riek Machar – PRESIDENCY OF SOUTH SUDAN – Archive
Kiir's offer includes the reversion to the ten states requested by Machar, but includes three controversial administrative areas
MADRID, 16 (EUROPE PRESS)
The South Sudanese rebel leader and former vice president Riek Machar has rejected on Sunday the offer presented by the country's president, Salva Kiir, to set up a territorial model based on the return to the division in ten states plus the creation of three special regions, in which It was considered an essential condition to reactivate the peace process in the African country.
"We cannot accept this model," Machar said, especially annoyed by the existence of these three additional administrative zones to those states – Abyei, Great Pibor and Ruweng – which he described as "another Pandora's box" for the community conflict. that they behave
"The Presidency's decision to revert to ten states and the creation of new administrative areas cannot be accepted," according to the statement issued Sunday by its People's Liberation Movement of Sudan-In Opposition (SPLM-IO).
"Therefore, we ask President Kiir to reconsider this idea of ​​creating administrative areas, since this opens another Pandora box that overcomes the purpose of returning to ten states," said the statement, collected by the 'Sudan Tribune.'
Thus, Machar emphasizes that with the creation of these special administrative zones they involve sectioning a part of Warrap to create that of Abyei; a part of Jonglei to create Pibor and a part of Unity to create the new Ruweng entity. In the latter case, it also aggravates the conflict that would generate between the Dinka and Nuer tribes.
The leader of the National Democratic Movement (MDN), Lam Akol, has also criticized the creation of the Ruweng region and has warned that it is "cause for concern." The MDN is a signatory of the peace agreement as other formations that have positively valued Kiir's decision as a "step forward" for the formation of a government of national transition unit.
THE CONTENTIOUS OF STATES
When South Sudan became independent from Sudan in 2011, the country had ten states. As the International Crisis Group points out in a recent report, "state governors enjoy substantial power, have access to resources and influence over political appointments at the local level."
In addition, "the borders of the states are very important, since they can determine which ethnic group dominates each state and benefits from its resources, including oil," notes the 'think-tank', which explains that allies of Kiir and Machar would like the number of states to be expanded.
In 2014, when the current conflict had already begun, Machar asked to divide the country into 21 states, after which Kiir redrawn the map and divided South Sudan into 28 states, which later became 32 in order to "favor to its political base, "says Crisis Group.
The last five years of civil war in South Sudan, which broke out only two years after gaining independence from Sudan in 2011, has killed nearly 400,000 people and displaced millions. The economy is shattered and almost half of the country is still in a severe hunger crisis.