M1 death crash lorry driver David Wagstaff cleared of charge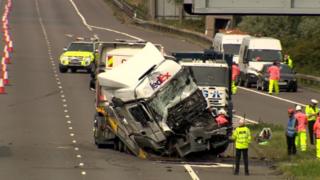 A second lorry driver involved in a crash on the M1 that killed eight people has been cleared of causing death by dangerous driving.
David Wagstaff had previously admitted eight counts of the lesser charge of causing death by careless driving.
Wagstaff, 54, was on a hands-free call when his lorry forced a minibus under a stationary lorry in lane one.
The driver of the other lorry involved, Ryszard Masierak, 31, was convicted on Tuesday of dangerous driving charges.
The pair are due to be sentenced at Aylesbury Crown Court on 23 March.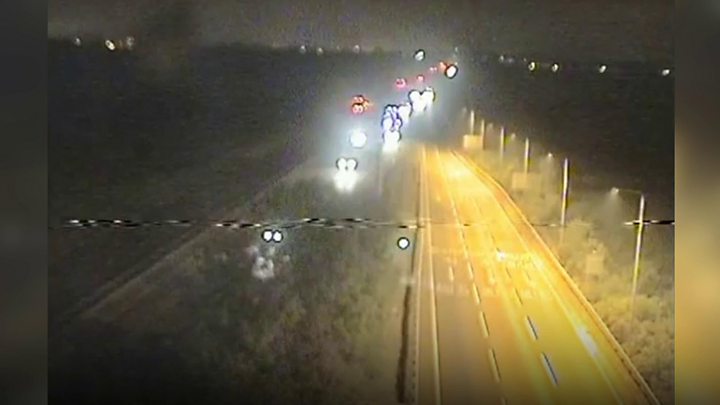 Ch Insp Andy Storey, from Thames Valley Police, revealed outside court that Masierak's professional driving licence had been revoked prior to the crash and he "should not have been driving at all that day".
Fed Ex driver Wagstaff, who described his own actions as a "lack of concentration", was also cleared of four counts of causing serious injury by dangerous driving by the jury at Reading Crown Court, charges that Masierak had also been found guilty of.
Judge Francis Sheridan paid tribute to the jury in what he described as a "very emotional and heartbreaking" case.
Louise Atrill, from the Crown Prosecution Service, said outside court: "Both men showed flagrant disregard for the safety of other road users that morning, leaving five families mourning their loved ones.
"It's unimaginable to think of the consequences this incident will have on the family and friends of the deceased and those injured."
Mathew John, spokesman for the family of minibus driver Mr Joseph, said they were disappointed by the verdict on Wagstaff.
He said motorway information systems had failed to alert other road users to the fact Masierak had been stationary for more than 10 minutes.
"I think there should [also] be monitoring cameras in the [lorry] cabin to see what actually these drivers are doing," he added.
The court heard AIM Logistics driver Masierak was at twice the drink-drive limit when he stopped his vehicle in the carriageway near Newport Pagnell, on 26 August last year.
Just after 03:00 BST, a minibus being driven by Cyriac Joseph carrying 11 Indian tourists from Nottingham to London on their way to Disneyland Paris pulled up behind Masierak's vehicle with its hazard lights on, waiting to go around it.
'Memories of bodies'
Seconds later Wagstaff, who had been on a hands-free call for an hour, ploughed into the back of the minibus, without swerving or braking, and forced it into and under Masierak's vehicle, the court heard.
Wagstaff, of Derwent Street, Stoke-on-Trent, told police he spoke to fellow driver Elliot Brough frequently and on the night in question they were talking about "rubbish", including Everton and Donald Trump.
During the trial, Wagstaff, who has since been diagnosed with post-traumatic stress disorder, said he "cannot remember anything at all" about the collision.
His lawyer said he had "vivid memories" of the bodies in the aftermath of the crash over the August Bank Holiday weekend.
The eight people killed – six men and two women – were Mr Joseph, Panneerselvam Annamalai, Rishi Ranjeev Kumar, Vivek Baskaran, Lavanyalakshmi Seetharaman, Karthikeyan Pugalur Ramasubramanian, Subramaniyan Arachelvan and Tamilmani Arachelvan.
The four other people in the minibus – including a four-year-old girl left orphaned by the tragedy – spent weeks in hospital following the crash.
The court was told AIM Logistics driver Masierak stopped in the carriageway at about 02:57 BST, despite there being miles of hard shoulder available.
Prosecutor Oliver Saxby QC called the Polish national's behaviour "as flagrant as it was dangerous".
He admitted he had consumed alcohol but said this had nothing to do with the crash.
Instead, he said he stopped because he was sweating, felt weak and had a headache and had attempted to get onto the hard shoulder.
Masierak, of Barnards Close, Evesham, Worcestershire, then said he lost consciousness, only to be woken from what he described as a "small coma" when the crash happened.
After Wagstaff's verdict was given, Judge Francis Sheridan praised the families of the deceased for their "constant dignity in a dreadful case with very sad, tragic consequences".