Lush 'anti-spy cops' campaign criticised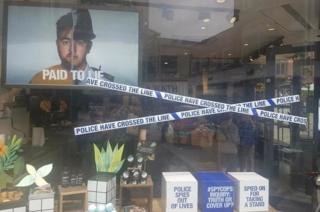 Cosmetics company Lush has been heavily criticised on social media for a campaign aimed at drawing attention to the so-called UK "spy cops" scandal.
Lush says it is highlighting "the ongoing undercover policing scandal, where officers have infiltrated the lives, homes and beds of activists".
Many on social media have accused the company of attacking the police and have called the campaign "disgusting".
But in response, Lush said it was not "an anti-police campaign".
The firm said UK police forces were doing a difficult job with less funding, and it wanted instead to highlight a "secretive subset of undercover policing" that undermined democracy.
'Fantastic officers'
Twitter account @UKCopHumour was one of the first to react to the campaign.
The account, which says it tries "to show the human side of our fantastic police officers", suggested Lush would no longer call on police if it ever needed them.
Skip Twitter post by @UKCopHumour
The latest "advertising" campaign by LUSH UK….. 🙄 You might now expect a 100% reduction in calls to the Police, given that they're displaying their contempt in their shop windows… pic.twitter.com/LGXCZ5o7BG

— UK Cop Humour (@UKCopHumour) May 31, 2018
End of Twitter post by @UKCopHumour
A public inquiry into claims of wrongdoing by undercover officers who infiltrated activist groups in England and Wales was set up in 2015.
Lush has said its campaign was designed to urge Home Secretary Sajid Javid to listen to campaigners who have accused the inquiry of protecting officers.
Undercover policing inquiry: Why it matters

Undercover policing inquiry: Chairman urged to quit

Undercover Police abuses: How "Monica" ended up in relationship
However, Che Donald, vice-chairman of the Police Federation of England and Wales, described the campaign as "very poorly thought out".
Skip Twitter post by @PFEW_Che
This is very poorly thought out campaign @LushLtd & damaging to the overwhelmingly large majority of #police who have nothing to do with this #undercover enquiry.

I will now clear my house of any of your products and my family and friends will never use them again. #FlushLushhttps://t.co/BXuwUNH6mQ

— Ché Donald (@PFEW_Che) May 31, 2018
End of Twitter post by @PFEW_Che
Mr Donald was one of those who used the hashtag #FlushLush when stating he would not use Lush products again.
The hashtag was used almost 2,000 times on Twitter in the first 12 hours after the campaign was launched.
Skip Twitter post by @kitty___daniel
Things to be removed from my life with immediate effect:

1. @LushLtd products

The end. #FlushLush#ThinBlueLine@UKCopHumour@Peter_Kirkham

— K D (@kitty___daniel) June 1, 2018
End of Twitter post by @kitty___daniel
A number of police officers have criticised the campaign, with one tweeting to say he was "heartbroken".
Skip Twitter post by @SgtMD01
I worked for @LushLtd for years before I joined the police, and I'm heartbroken by this. Lush stands alone among many for its strong ethical foundation and the commitment of its staff, just like the police. We should be standing together.

— Sgt Mike Duzinkewycz (@SgtMD01) May 31, 2018
End of Twitter post by @SgtMD01
Christine Fulton who co-founded the charity Care Of Police Survivors (COPS), which supports the family of police offers who are killed on duty, wrote that she was "appalled".
Skip Twitter post by @CFMBE
As the widow of a police officer murdered on duty I am appalled at the campaign by @LushLtd the police service should be supported and respected. Who do Lush call when they have a shoplifter, their staff are abused or their stores broken into? Hang your heads in shame.

— Christine Fulton (@CFMBE) June 1, 2018
End of Twitter post by @CFMBE
In response to another tweet, Lush wrote: "To clear this up, this isn't an anti-police campaign, it's to highlight the abuse that people face when their lives have been infiltrated by undercover police."
In a statement released on its website, the Dorset-based company said: "This is not an anti-state/anti-police campaign. We are aware that the police forces of the UK are doing an increasingly difficult and dangerous job whilst having their funding slashed.
"Our campaign is to highlight this small and secretive subset of undercover policing that undermines and threatens the very idea of democracy."
The Lush UK Facebook page has received 19,000 negative reviews, mostly in the past 24 hours.
The Advertising Standards Authority tweeted to say it was "assessing the complaints" made against the Lush campaign but that the company was currently not under investigation.
Skip Twitter post by @ASA_UK
Clarification: we've received complaints about the @LushLtd police campaign and are currently assessing the complaints. Lush are not under investigation at this stage.

— ASA (@ASA_UK) June 1, 2018
End of Twitter post by @ASA_UK
Others were more sympathetic to Lush, but suggested the intention of the campaign might not have been clear to the majority of people.
Skip Twitter post by @penhalluk
And that's the problem the majority of people walking past that window will have no idea what it's about and it simply appears to be an anti police campaign. It's a very small minority this is targeted at but pretty much every officer I have spoken to is offended by it.

— steve penhall (@penhalluk) June 1, 2018
End of Twitter post by @penhalluk
One Twitter user applauded the "brilliant, provocative and brave" campaign.
The campaign is set to run at all Lush shops in the UK until Sunday 17 June.