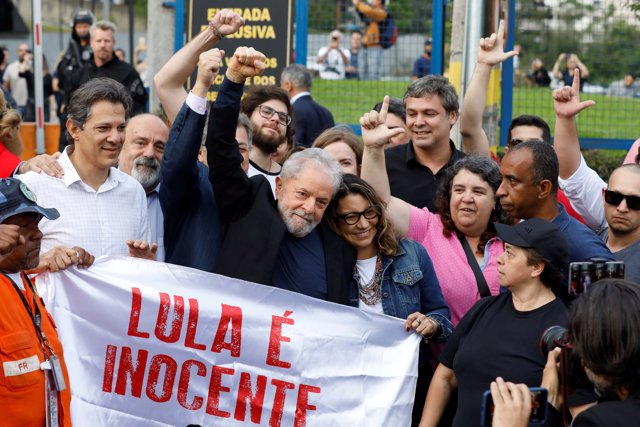 Former Brazilian President Luiz Inacio Lula da Silva gets out of jail – REUTERS
MADRID, Nov. 8 (EUROPE PRESS) –
The former Brazilian president Luiz Inacio Lula da Silva has left this Friday in Curitiba prison, where for more than a year and a half he had purged two corruption convictions totaling more than 20 years in jail, according to a recent Supreme Court ruling ( STF) that allows you to wait in freedom for a firm judgment of both processes.
Lula, imprisoned since April 2018, has left the Superintendence of the Federal Police of Curitiba shortly after a federal judge ordered his immediate release, as requested by the defense in compliance with said ruling.
The STF decided on Thursday, by six votes in favor and five against, to revoke the law that establishes that convicts begin to serve their sentences after losing their first appeal and, instead, to allow them to exhaust the long appeals process before entering prison.
His release does not mean that he has been exonerated, but will wait in freedom to exhaust the remedies in the two sentences he has received to date and that could increase, since he has been charged in five other cases derived from 'Lava Jato 'and has three pending complaints.
Lula was sentenced in July 2017 to nine and a half years in prison for accepting a luxury triplex as payment to the political favors he made to the construction company OAS. Subsequently, the penalty was changed, first to twelve years and one month and finally to eight years and ten months.
Last February, the former union leader received a second conviction for corruption. This time, twelve years and eleven months in jail for the reforms that the construction companies OAS and Odebrecht made in a rural property attributed to Lula in Atibaia, Sao Paulo, also as payment to their political favors.
Lula has fought both failures by all means. In the case of the luxury triplex, he has elevated it to the highest judicial instance in Brazil claiming the nullity of the entire process due to the alleged bias of the judge in charge of it, the now Minister of Justice, Sergio Moro. The other case is in the second instance.
Since last September he is semi-open because he has already served a sixth of the first sentence, but he has refused to enjoy it because he considers that it is only a handout against what he claims, his freedom.
The former tenant of the Planalto Palace has become the highest ranking prisoner of the 'Operation Lava Jato', which investigates the collection of bribes in exchange for political benefits. The corruption scandal has splashed all parties, as well as businessmen.