Lowestoft 'frozen to death' patient had been evicted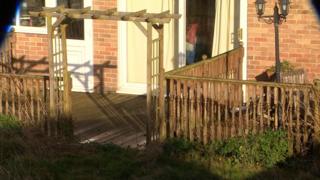 A man thought to have frozen to death 16 hours after police voiced concerns about his welfare had recently been evicted from his home, it has emerged.
Concerns about Anthony Barnard, 57, were first voiced after he was spotted sitting outside the property in Lowestoft on 27 December.
The East of England Ambulance Service decided at that stage no ambulance was required.
The following morning – 19 hours after the first 999 call – he was found dead.
Suffolk Police has confirmed it has referred itself to the Independent Office for Police Conduct (IOPC) – formerly known as the Independent Police Complaints Commission – over its handling of the incident.
The ambulance service is currently investigating its handling of Mr Barnard's case but has previously told the BBC his death occurred during a very busy period.
The BBC has now learned Mr Barnard was declared bankrupt in 2017 and that he had been evicted from his Priors Close home at the end of September.
Andrew McTear, who was dealing with Mr Barnard's bankruptcy, said: "He was made bankrupt and ultimately evicted from his property because he failed to deal with his affairs and didn't respond to any correspondence.
"At some point he lived with his mother. I was aware he was going back to the house. He wouldn't have been able to get back.
"He certainly would be breaching a court order to go back inside the house itself."
Neighbours say Mr Barnard had lived there for about 20 years and had on previous occasions been seen drinking outside the property.
They said concerns had been voiced about the welfare of Mr Barnard but he had declined help.
One neighbour, Janice Wilcox, said: "He was very obviously a troubled man and he liked to keep that to himself.
"To think in this day and age somebody had died in their garden, possibly frozen to death.
"We don't yet know his cause of death but it was a very, very cold night. It was awful."
Weather records show temperatures on the night of Mr Barnard's death dipped below freezing.
It is understood concerns about Mr Barnard were first raised with social services, who referred the call to the police. Officers then contacted the ambulance service.
A force spokesman said: "Suffolk Constabulary can confirm it has made a mandatory referral to the IOPC who will conduct an independent investigation."
Mr Barnard's case was one of 41 released to the BBC by an ambulance service whistleblower. On Wednesday, Prime Minister Theresa May voiced her concerns about the list of serious incidents at the ambulance trust.
The ambulance service has confirmed the first call about Mr Barnard was made by Suffolk Police.
But because he was breathing and conscious with "no obvious injuries", the service decided he did not need an ambulance.
A second call was made about 16 hours later by one of Mr Barnard's neighbours, who described seeing him "obviously dead" on the decking of his rear garden.
An ambulance arrived within eight minutes of that second call, the service said but when paramedics arrived Mr Barnard was dead.
The leaked document said the patient "appears to have frozen to death".