Love Island: What makes Caroline Flack turn into a 'melt'?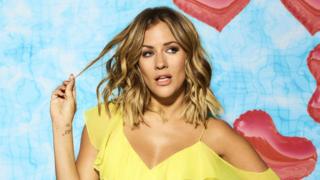 It's not often you come across a TV series which is groundbreaking, revolutionary, genre-defying, innovative, challenging and entertaining all at the same time.
But we can discuss Brooklyn Nine-Nine another day.
Love Island is back for a fourth series. And, crucially, so is presenter Caroline Flack.
In 2017, the show became something of a surprise hit, with the finale giving ITV2 its highest-ever audience.
"I don't think I was expecting the madness that was created last year," Flack tells BBC News ahead of the fourth season's launch.
"I like the way the momentum has happened, it's been slowly but surely, and it's kind of been word-of-mouth.
"You see the show on the surface and you think, 'Oh it's just a lot of scantily-clad people in a villa, just getting off with each other,' but it's not. And I think anyone who watches it realises it's a lot more than that."
It's true, any scepticism about whether the on-screen relationships are genuine has evaporated, as many couples on the first three series of the show have stayed together, and, in some cases, even had children or got engaged.
"I suppose you could fake it for a couple of days. I know I could probably fake love for a couple of days, but I couldn't fake it for more than three or four days, and neither could you, I don't think any of us can," says Caroline.
"And what happens is when you fall in love, you can't change the way you act around someone when you fall in love with them.
"I know when I'm around someone I love, I turn into a complete… OH MY GOD I'M GOING TO SAY IT… A MELT!" she laughs.
"Because I go soppy and stupid and become a different person. And you see it, you know, they go in with all this, 'I'm this and I'm that', and as soon as they fall in love they become these vulnerable people that we all do."
The authenticity of the relationships is just one of several theories Caroline has about what drew so many people to Love Island last year:
Why did Love Island connect so much with viewers?
1. Escapism
"We were going through a time last year where everyone was against each other, voting all these different things, and what Love Island did was bring everyone back together and we could all love Marcel at the same time," Caroline says.
"It's complete escapism. It's guilt-free, fun and enjoyment and a little bit of gossip, and aren't we all interested other people's relationships? We're all nosy."
2. Old-school romance
"Even though it's a modern dating show, it's actually an old-fashioned way of getting to know someone. We have no mobile phones, there's no internet, no Tinder, they're actually going back to the old art of conversation to fall in love.
"There's no liking, no poking, no stalking, you actually have to talk. It's a sped-up real life relationship."
3. Online rantability
"Social media plays a big part in the show," Caroline says. "I think there aren't many shows now that you can watch along live and tweet and talk about at the same time.
"People like to have a good old rant, whether it's good or bad, about the people in it, and I love that side of it, and I do it as well. I'm a viewer first and a presenter second."
But the high ratings mean high pressure for this year's series.
Not a problem for Caroline though. She loves pressure.
"I love pressure," says Caroline (see?).
"I trained as a dancer and did all that kind of stuff. And as a dancer, pressure's a good thing."
(Her Strictly Come Dancing victory in 2014 backs this theory up.)
"Of course there's pressure and expectations, but that only makes you work a bit harder. And it may not create the same magic as last year but it'll create a different magic."
Love Island 2018 contestants revealed
There'll obviously be a different group of contestants, but what else is going to be different this time around?
"Nothing," says Caroline.
Really?
"The show is self-producing. It's not like a reality show where we say, 'right there's an eviction this night, someone's leaving that night', we can't work it like that, because we'd rather it evolve on its own, and you can't produce a relationship.
"They happen in there, we follow them. That's why they call me out and go, 'Right, you need to be here in four hours,' and I go 'I'm coming!'
"And then I get on a plane and go out there and announce some news, and that's really fun. I don't know when it's going to happen, they don't know when it's going to happen.
"There probably [will be] some twists here and there, but they're not going to tell me."
The show's two main controversies last year centred on two things: sex and smoking. Not necessarily at the same time.
"We don't show the actual humping, it's not part of what the show is. And actually if you know the show, they're the uninteresting bits, fast-forward them, it's the falling in love and the conversation and the relationships that are the most interesting part.
"If you want to watch humping, we all know where you can watch humping. Love Island ain't for humping.
"We'll see a little twitchy toe here and there, and we allude to the fact they're doing stuff, and of course there's lots of snogging. But there's no humping, really. It may happen but I don't think we'll show it."
But it was the amount of on-screen smoking that attracted the most complaints last year, something which led to Love Island even being discussed in the House of Lords.
Caroline says she was unaware of the complaints over smoking, but says: "I don't condone smoking in any way.
"I wouldn't want my young nieces watching people smoke because it's not a very nice thing to do."
Despite the controversies, Love Island went from strength to strength.
Earlier this month, it won a TV Bafta for best reality and constructed factual, and this week it was announced the new series will have an accompanying podcast.
If Love Island had been a BBC Two show, it would likely have migrated to BBC One after such success, like Bake Off and Miranda did.
But Caroline can't see Love Island ever moving to ITV.
"I doubt it. It's not about the size of the audience that would change the channel. It's made for 16 to 34 year-olds, that is what we aim it at. It's made for ITV2 and it flies a really brilliant flag for ITV2," she says.
"I think it would be a weird decision to put it on to ITV, because it's a different audience."
The week Caroline speaks to BBC News, she's just confirmed her engagement to former Apprentice candidate Andrew Brady.
The presenter hasn't shied away from posting pictures of herself and her new fiance on holiday together – something she says is entirely natural for new couples to do.
"You know what, if it's happy and it's part of your life… I'm not saying you should show everything. But there's nothing wrong with saying you're happy and in love, of course not. That's what we're here for.
"Essentially I think everyone wants to be in love. But love comes in lots of different forms. I don't mean everyone has to be married with two kids, or in the perfect relationship. It comes in all different forms, and if you're happy, there's no point in not sharing it."
Love Island begins on ITV2 on Monday 4 June.