London, Paris, Moscow and Berlin are committed to preserving the nuclear agreement with Iran at its most fragile moment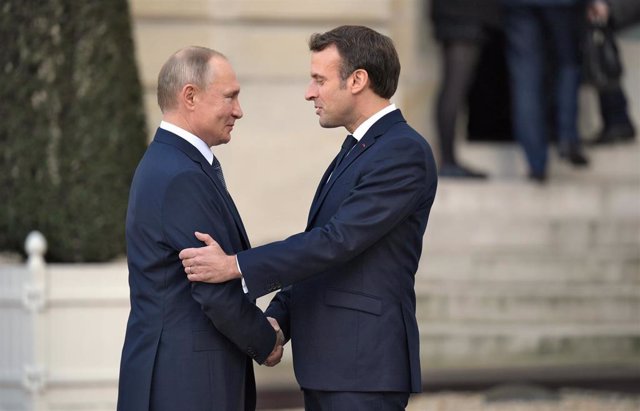 Vladimir Putin and Emmanuel Macron – Dmitry Azarov – Archive
MOSCOW, 12 Jan. –
The leaders of the United Kingdom, Germany, Russia and France have expressed their support for the nuclear agreement signed with Iran in 2015 on Sunday despite Iran's tensions with the United States and Tehran's decision to resume unrestricted uranium enrichment.
First, the presidents of Russia and France, Vladimir Putin, and Emmanuel Macron have flatly shown themselves in favor of continuing efforts to preserve the Joint Comprehensive Action Plan (PAIC) following a telephone conversation.
Putin and Macron have called in recent days a reduction of tension between the United States and Iran, which later this week has reached a high point after the Islamic Republic mistakenly shot down a Ukrainian passenger plane by confusing it with a cruise missile during hostilities in response to the death of the powerful general.
Thus, things and "due to the tense situation around Iran, the presidents of Russia and France have pointed out the need for all parties to act in moderation and declared themselves in favor of continuing efforts to preserve the PAIC," according to the statement published this Sunday by the Kremlin.
On the other hand, both leaders have also discussed the current situation in Libya and specifically in the capital, Tripoli, currently under a precarious ceasefire after months of siege by the forces of the east of the country on the Government recognized as legitimate by the community international.
"In the context of the Russian-Turkish agreements, reached on January 8 in Istanbul, the importance of the ceasefire compliance, declared as of January 12, by both sides of the conflict, was stressed," according to the Kremlin statement , published by the official Russian news agency, RIA Novosti.
Later, Macron has published a joint statement with his counterparts in the United Kingdom, Boris Johnson, and Germany, Angela Merkel, in which they advocate "preserving the nuclear non-proliferation regime and ensuring that Iran never develops a nuclear weapon" and to this considers that the PIAC plays "a key role".
"Despite the increasingly difficult circumstances, we work tenaciously to preserve the agreement," they said. "It is essential that Iran returns to full compliance with its obligations under the agreement," they said.
The three European leaders have denounced again "the actions taken by Iran in violation of its commitments since July 2019", ask that they be reversed and warn that they reserve "the right to use all the provisions of the PIAC to preserve it".
Iran decided to dissociate itself from the bulk of the agreement after the death in Iraq of the prominent general Qasem Soleimani by a US attack on January 3. Previously, the Islamic Republic had decided to withdraw gradually in the last months from other aspects of the pact after denouncing lack of commitment on the part of the other signatories in helping Tehran overcome US sanctions.