London Marathon: Hero helper and runner will start together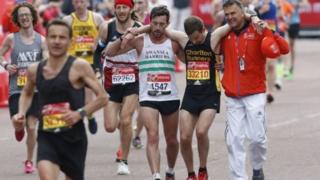 In 2017, after running almost 26 miles, David Wyeth's legs literally collapsed under him just metres from the finishing line of the London Marathon.
Matt Rees was running in the same race and stopped to help him along.
This year the runners, whose picture was widely shared following the race, will start the 2018 London Marathon together.
Speaking about the race in 2017 David told the BBC: "It was only my second marathon but I had confidence in the training I'd done. However, I hit the wall at around mile 21, and then I became heavily fatigued. By mile 25 I couldn't maintain a straight line. I'd pushed myself to the absolute limit – you could see my body going into shutdown, I lost motor function."
This was in stark contrast to David's previous marathon in Manchester. "I exceeded my target of completing in under three hours. So I was hopeful for a good time in London," he said.
"In the medical tent afterwards I still didn't really know what happened. It was a moment of great trauma."
'I wasn't going to leave him'
As for Matt, a calf injury slowed him down which meant he missed out on a personal best (PB) time in London.
"I was still on course for a good time. But when I saw David struggling, my natural response was to go over and see if he was OK," Matt told the BBC.
"It became clear he was going to need some support to get to the finishing line. I wasn't going to leave him metres from the end of such an iconic race. I wanted to make sure we both finished what we started after months of tough training."
You might also like:
Undeterred by his experience in the London Marathon, David has no doubt that running is good for his health, and being helped over the finishing line was a "pivotal point" for him.
"So much had been around a time-oriented goal but I now understand the sense of community in running and have a better perspective. The response from London was amazing," says David.
After some intensive rehabilitation as well as contemplation, David was delighted to be invited to run a marathon in Amsterdam last October.
"It was a massive privilege and really therapeutic.
"Despite being a bag of nerves to start with, I ran it in two hours and 38 minutes, which was a PB. It was good to gain strength and put the demon to rest."
However, it's not always just about getting a personal best. "Above all, enjoy the process," advises David. "I'm a strong advocate that running does so much for your mental and physical health – it can't possibly be bad for you."
'Emotional experience'
Both runners were such an inspiration to the running community, they were given a Spirit of London award.
They got together again in March to discuss the closing moments of the race.
David and Matt have stayed in touch, keeping each other up to date with their training progress.
"We are good mates now," says Matt. "I've been up in his hometown of Manchester to run a race, and he has done the same in Swansea. I have met his family and we all get along great. He is a great guy and will remain a friend for life."
Matt says he is looking forward to soaking up the atmosphere and seeing his friend, David at this year's London Marathon.
"Going back to where we met will be an emotional experience. We don't plan to run the same pace but you never know what is going to happen in a marathon."
Both runners have their eyes set on a PB but whatever the finishing time, David says he will continue to run for as long as he can.
"I'd be devastated if I couldn't run."
By Sherie Ryder, BBC UGC and Social News