London Marathon 2018: Mary Keitany eyes Paula Radcliffe's world record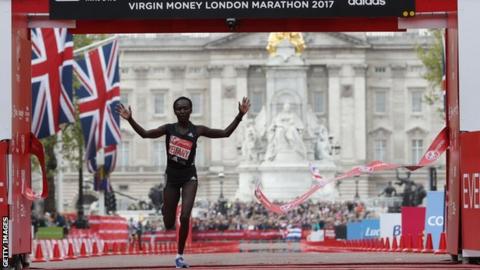 Kenya's Mary Keitany will use male pacemakers in an attempt to break Paula Radcliffe's 'mixed-gender' race world record at April's 2018 London Marathon.
The record of two hours, 15 minutes and 25 seconds has stood for 15 years.
Athletics' world governing body recognises two world records – mixed-gender and women-only – and last year Keitany broke Radcliffe's 'women-only' world best in a time of 2:17:01.
Keitany, 36, hopes "form, health and the weather" remain kind on the day.
"I know the record was set by Paula Radcliffe on this course in 2003 and that she is a very popular person in Great Britain," added the three-time London Marathon champion.
"But I really hope the London crowds get behind my challenge and can help drive me on to achieve something incredible.
"By having male pacemakers, I will be able to have the support throughout the race."
The race will take place on on Sunday, 22 April.
IAAF world marathon records
The International Association of Athletics Federations (IAAF) recognises two world records in the women's event. A 'mixed-gender' record, set by a female athlete using male pacemakers, and since January 2012 the record for the best time achieved in a 'women-only' race.
During her win in 2017, Keitany passed the half-way point more than a minute faster than Radcliffe's 2003 pace, but fell away soon after.
"The marathon world record is something that I have been working towards for several years and I feel I am now in the position where I can really attack the time of 2:15:25," she added.
"At last year's London Marathon, I was feeling good but it was hard to run nearly half the race on my own."