Liverpool Echo Arena car park fire destroys 1,400 vehicles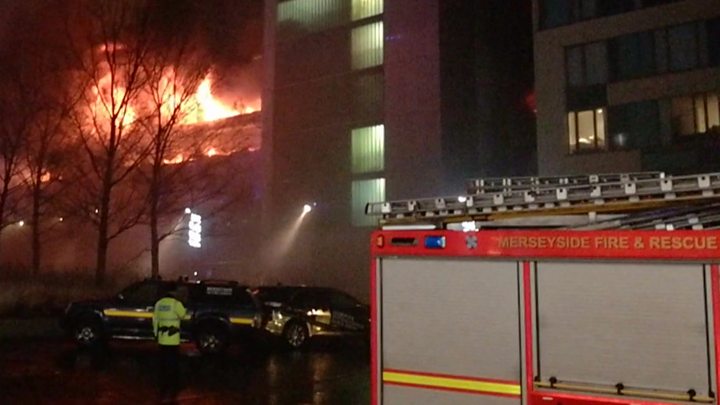 A huge fire has destroyed up to 1,400 vehicles in a multi-storey car park in Liverpool.
Nearby apartments have been evacuated due to smoke, police said, and
Merseyside Fire and Rescue Service described the blaze at King's Dock next to the Liverpool Echo Arena as one of the worse fires it had ever dealt with.
No-one is believed to have been seriously injured in the fire, which broke out at about 16:40 GMT
The fire service said 12 engines were at the scene tackling the blaze and it was guarding against the risk of the building collapsing.
All vehicles left in the 1,600-capacity car park have been destroyed, Merseyside Police said.
They warned people to stay away from the area, adding that travel restrictions were in place.
The Liverpool International Horse Show has been running at the arena, which has a total capacity of 11,000, since 28 December.
Liverpool Mayor Joe Anderson tweeted that everyone was safe and no animals had been hurt.
He said some horses that were on the first floor of the multi-storey car park had been moved inside the arena.
Mike Quek tweeted that there were "lots of explosions coming from the car park still".
"Driving into #liverpool #arena carpark and told to evacuate as car was on fire. Horses on ground floor. Hopefully everyone is ok," he added.
Merseyside Police said: "Initial investigations indicate that an accidental fire within a vehicle caused other cars to ignite.
"We believe that all vehicles parked in the car park have been destroyed."
A spokeswoman for the Echo Arena said: "We regret to announce that the Liverpool International Horse Show has been cancelled tonight due to a serious fire in the multi-storey car park on site.
"All people and horses are safe and secure.
"We are working alongside the emergency services to ensure the fire is brought under control and to make the site safe as quickly as possible."
The arena said Liverpool City Council had opened a reception centre at Lifestyles in Park Road, Steble Street, L8 6QH, for those unable to get home or needing temporary shelter.
On the horse show's Facebook page, organisers said it was with "considerable regret" that it had decided to cancel the evening show due to the fire.
It added: "All people and horses are safe and secure, and show organisers have thanked spectators, riders and support teams for their understanding and co-operation during this ongoing situation.
The Echo Arena said: "The possibility of rescheduling tonight's show to tomorrow has been discussed, but unfortunately this has not proven possible."
A number of people have responded to the show's Facebook post, many offering stables for the night for horses, accommodation for people stranded or lifts home.
Carl Hopwood wrote: "The smoke from the fire was really nasty. The security staff at the venue were really professional polite and very well organised in directing people away from the event."