Lin-Manuel Miranda: The man who made Hamilton a stage phenomenon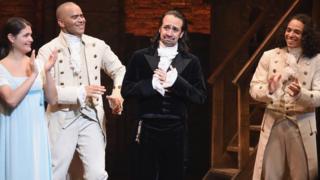 Few stage shows have matched the level of anticipation created in London by the musical Hamilton, which has its press night this week. In New York, Lin-Manuel Miranda's show became a phenomenon when it opened in 2015 and Miranda became a huge star almost overnight. But what did he do before Hamilton?
When in 2010 Lin-Manuel Miranda posted his wedding video online he was doing what thousands of Americans do each year.
By then Miranda was becoming known as co-author and star of the musical In the Heights, which had opened on Broadway two years earlier. But then Hamilton became a phenomenon – and views of the video took off. So far, it's been watched almost six million times.
The wedding video featured parts of the 1960s musical Fiddler on the Roof. Every available relative appears to have been roped in to perform (though none appears unwilling). Most theatres would gawp in envy at the production Miranda pulled together.
In fact almost every stage of Miranda's 37 years exists now in videos posted online. Mainly they're musical – though as a self-confident eight year-old he gave a thumbs-up to the children's book The Pushcart War.
'Show-tune bug'
Michael Riedel, theatre columnist of the New York Post, has watched Miranda's success take shape. "He's very definitely a New York City born and bred kid who grew up in Washington Heights, which is largely Hispanic. Lin-Manuel's parents were born in Puerto Rico. He fell in love with musical theatre when he was young.
"He knew all about Rodgers and Hammerstein and Stephen Sondheim – but he also loves hip-hop and rap music. That combination gave him something special.
"Sometimes people assume he started a poor kid from the ghetto but really that's not true. His father Luiz was a prominent political figure who worked for Ed Koch, the democratic mayor of New York and the family is well-connected politically and socially." (His mother Luz had a career as a clinical psychologist.)
Miranda attended Hunter College High School, a non-fee paying school which selects some of New York City's brightest pupils. The show-tune bug showed up early: at school he acted in the musicals Godspell and Bye Bye Birdie.
Later he went to Wesleyan University, Connecticut where he took the lead role in Jesus Christ Superstar. It was clear where his career was starting to head.
Riedel thinks the show which most influenced Miranda was Rent in 1996.
Unhappy audiences
"Rent proved that American musical theatre could move on from the British invasion of Andrew Lloyd Webber. But Lin-Manuel offered something even more: he wrote the words and the music and the story… but also in In the Heights he took a starring role.
"That's remarkable – as though Leonard Bernstein had sung and danced in West Side Story."
In fact, in 2008 Miranda helped revamp West Side Story for Hispanic audiences. With Stephen Sondheim's permission, he provided new Spanish lyrics for the songs sung by the Puerto Rican characters. Audiences disliked the changes and most of the original lyrics were reinstated – but it was clear Miranda was getting known around Broadway.
In 2011 came his least well-known show: he was co-creator of Bring It On, a musical based on the 2000 film of the same name.
There were those who thought Miranda's work too culturally specific to travel outside America.
But three years ago Paul Taylor-Mills co-produced In the Heights in London, in a new staging by Drew McOnie.
Key to success
"Working on that show was fascinating. Everyone thinks Lin has invented a totally new form of musical but really he hasn't. He learnt so much from other shows such as Sweeney Todd that he can construct a piece superbly. Well before Hamilton he had a profound understanding of what needs to happen when. It is such a rare skill.
"He's drawing on everyone from Cole Porter to Gilbert and Sullivan – but it feels like he's just got a key to a different door. He's using a language and a sound which we all hear in the charts from contemporary stars. No one in theatre has done that for a long time.
"The big thing Lin-Manuel has done with Hamilton is penetrate to a world beyond theatre. People who have no interest in theatre know about Hamilton: they think the idea of going to see a show about this guy they'd never heard of is really cool.
"Lin's built on everything he did before and everything that came before that – all the stuff he loves. He's made the musical theatre form accessible and current. It's an astounding achievement."
Hamilton opens at the Victoria Palace theatre in London on 21 December.
Follow us on Facebook, on Twitter @BBCNewsEnts, or on Instagram at bbcnewsents. If you have a story suggestion email entertainment.news@bbc.co.uk.