Lightning strike causes Stansted Airport disruption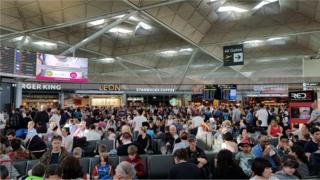 Hundreds of passengers are stranded at Stansted Airport after lightning strikes damaged aircraft fuelling systems, grounding flights.
Flights have been cancelled or delayed and some are being diverted away from landing.
The airport said its aircraft fuelling system was "unavailable" for a period earlier due to a lightning strike.
A spokeswoman said engineers had since restored the system but "flights may be diverted, delayed or cancelled".
"We apologise for the inconvenience and advise all passengers to check with their airlines for their latest flight updates," she said.
Passengers have described being stuck on planes for hours waiting to take off, while others are waiting in an already crowded departure lounge for information.
The problems occurred as thunderstorms and torrential rain swept across the UK overnight during the Bank Holiday weekend and at the start of school half-term.
BBC Look East reporter Richard Daniel said Ryanair had announced at the airport that all its flights are fully booked for the next two days, meaning passengers whose flights have been cancelled would not be able to re-book during that period.
Passenger Steve Childs told the BBC his Ryanair flight to Madrid had been due to take off at 08:25 BST.
Mr Childs, who is travelling with his wife and daughter, said he has had to get information from social media.
"There have been no announcements," he said.
"Flights which were due to leave at 06:00 still haven't left.
"We are in the middle of the departure hall. Fortunately we have seats, but there are lots of people without."
Rob Liddell, who was due to fly out on a family holiday to Rome for three days, said communication had not been great.
He found out his flight had been cancelled via a phone app, despite the departure board saying it had only been delayed.
Mr Liddell said that after "standing in a queue of several hundred people waiting to attempt to re-book our flights," Ryanair had "announced all flights are fully booked for next two days, so that's us heading home".
'Frustrated'
He said people at the airport were "pretty calm" and "resigned to the fact this has happened".
He added there were thousands of people in the departure lounge and "lots of young families in corridors".
April Peake, from Oxford, said her Ryanair flight to Lisbon was due to take off at 09:45.
"It is so hot in the departures lounge," she said. "I feel like I've made it to Portugal. But I haven't."
She said people were "bored" and frustrated".
"Flights keep disappearing from the information boards, and there are very quiet announcements listing the flight numbers of all the cancelled flights," she added.
"The lounge was thick with people a little while ago, but it seems to be thinning out a little bit now."
Frustrated passengers have been venting their thoughts on social media.
Twitter user Tracey Mitchell said her niece and nephew's flight had been cancelled, meaning they were "no longer going on their cruise".
Skip Twitter post by @Mummytravels
Top marks to Stansted airport. There is NO fuel for any planes this morning… And no word on when it might turn up. So we're all sitting on the plane waiting waiting waiting… @STN_Airport

— Cathy Winston (@Mummytravels) May 27, 2018
End of Twitter post by @Mummytravels
Ryanair would not comment on its bookings but a spokesman said "all affected customers are being contacted and advised of their options of a full refund, a free transfer on to the next available flight or a free transfer on to an alternative routing".
He added: "We apologise to all customers affected by these disruptions, which are entirely beyond our control."