Lewisham East by-election: Janet Daby chosen for Labour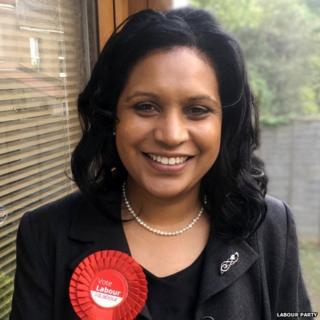 Members of the Labour Party have selected Janet Daby to stand in the Lewisham East by-election.
Ms Daby was chosen after hustings in south-east London on Saturday from a shortlist made up of only black and ethnic minority women.
She beat Sakina Sheikh and Claudia Webbe to run as the party's candidate for the by-election on 14 June.
Brenda Dacres pulled out of the contest on Friday because of health reasons.
Ms Daby said it was an "honour" to be put forward to run for Parliament.
Jeremy Corbyn congratulated Ms Daby and said she would make a "great advocate" for people in Lewisham.
The by-election was sparked by the resignation of Heidi Alexander, who is going to work for London Mayor Sadiq Khan.
Ms Alexander won the south-east London constituency by more than 21,000 votes in last year's general election, with the Conservatives second and Liberal Democrats third.
She is to become London's new deputy mayor for transport.
Analysis: Susana Mendonça, BBC London political reporter
Janet Daby's selection will be seen as a boost for the Labour Party's centrists.
Her views on Brexit put her at odds with party leader Jeremy Corbyn.
He has ruled out remaining in the single market – but Ms Daby was cheered by Labour members as she told them she was "pro-EU" and wanted to "stay in the single market and customs union".
Heidi Alexander claimed Jeremy Corbyn's shadow cabinet was dysfunctional when she quit it.
So there had been speculation that she might be replaced with a more left-wing candidate.
But Sakina Sheikh, who was backed by Momentum and is thought to be a favourite of Corbyn's, along with Claudia Webbe – who had the support of several unions – both lost by a long way.
Ms Daby received more than 60% of the vote.