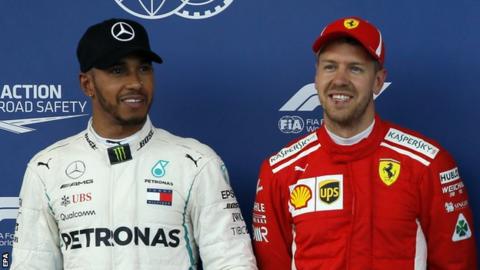 Lewis Hamilton has accused title rival Sebastian Vettel of breaking the rules behind the safety car during the Azerbaijan Grand Prix.
Mercedes driver Hamilton said Vettel drove dangerously by slowing down and speeding up repeatedly.
The Briton said he would be seeking clarification on what was allowed from FIA Formula 1 director Charlie Whiting before the next race in Spain.
Lewis Hamilton says Sebastian Vettel broke safety car rules
"You are not allowed to start and stop, start and stop," said Hamilton.
"You're not allowed to fake the guy behind.
"If there was not that rule, that's what you'd do because eventually you'd catch them sleeping."
Hamilton said the Ferrari driver had also behaved in this manner at a restart after a safety car period during the opening race in Melbourne.
"In Australia he accelerated and braked and I nearly went into the back of him and (in Baku) he did it four times and I need to speak to Charlie, because I don't understand.
"I understand he passed it to the stewards but they didn't do anything. They supposedly said everyone was doing it. But we're the leaders and it cascades down, what the first car does everyone does the same thing.
"That now sets a precedent, and it means everyone who is leading under a safety car can start-stop, start-stop.
"I need to get it rectified when I have the briefing next because clearly they don't care about it. And if that's the case we will see more of it. I will expect it from him next time and I will try to prepare."
Vettel had finished his media engagements by the time Hamilton made his remarks. BBC Sport has asked for a response.
The F1 sporting regulations say: "In order to avoid the likelihood of accidents before the safety car returns to the pits, from the point at which the lights on the car are turned out drivers must proceed at a pace which involves no erratic acceleration or braking nor any other manoeuvre which is likely to endanger other drivers or impede the restart."
Whiting said at a media briefing after the race on Sunday: "I think they controlled it very well but it's up to the leading driver only. Unlike other series they have an acceleration zone, a 300-metre zone where they can accelerate and I do not see any problem at all."