Letta predicts "tough days" after Meloni's triumph in Italy and announces not to visit PD interns
The general secretary of the Democratic Party (PD) of Italy, Enrico Letta, predicted "tough days" for this Monday after the undeniable victory of the far-right forces led by Giorgia Meloni in the general elections and announced that he would not run in election primaries of their formation.
"Today is a sad day for Italy and Europe. Hard days await us," Letta lamented at a press conference. "The Italians and the Italians have chosen a clear option, the right," emphasized the still PD Secretary General, who promised "a tough and uncompromising opposition".
Despite the "unsatisfactory result," Letta has stressed that the PD is the second most voted party in the country, as well as the second faction and the first opposition force. "The Democratic Party will not allow Italy to give up the heart of Europe or to separate itself from European values," he stressed.
Letta has assured that Meloni has achieved such good results that it is also thanks to attempts by 5 Star Movement President Giuseppe Conte to 'take down' still Prime Minister Mario Draghi and 'friendly fire "by former allies", in reference to action leader Carlo Calenda.
"The Democratic Party will work to build perspective, which was not possible this time. The numbers say that the only way to win the rights is the wide field: this time it wasn't possible, not because of us, but because of some interlocutors who withdrew," he accused.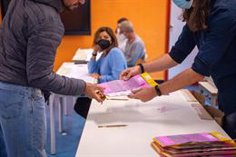 The leader of the action regrets that "the goal of stopping the law has not been achieved in Italy".
On the other hand, Letta took the opportunity to announce that she will not run in the party's next primaries, but until then she will ensure the stability of the formation until the next party congress, reports La Repubblica newspaper.
"I will ensure the leadership of the Democratic Party with a spirit of service leading up to the Congress, for which I will not be a candidate," announced Letta, for whom the appointment was intended to provide "profound reflection" on the concept carrying out a new Democratic Party at the height of a moment when the right "has never been quite right."
"Whoever comes after me will have to advocate for an alternative for the majority of Italians. I've never been for self-sufficiency, I've never been for isolation, I've always been for dialogue," said Letta, who is banking on building a new "alternative" for the spring elections to stop the right wing.