Leicester shop explosion: Three men in court over fatal blast 'caused by petrol'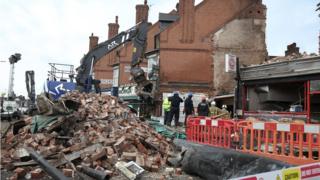 An explosion that killed five people in Leicester was caused by petrol being spread through a shop, a court has heard.
A Polish supermarket and the flat above in Hinckley Road were destroyed in the blast on the evening of 25 February.
Three men have appeared in court for the first time charged with arson and manslaughter over the explosion.
The store's owner Aram Kurd, 33, is charged along with Hawkar Hassan, 32, and Arkan Ali, 37.
Prosecuting solicitor Zoe Lee told Leicester Magistrates' Court: "It has been established that the explosion was caused by petrol and the petrol was spread throughout the shop."
The men were all remanded in custody and will appear at Leicester Crown Court on 3 April via video link.
The defendants are:
Aram Kurd, 33, of Hillary Place, Leicester
Hawkar Hassan, 32, of no fixed address
Arkan Ali, 37, of Drake Close, Oldham
They each face five counts of manslaughter and one count of arson with intent or being reckless as to whether life was endangered.
The court heard that Mr Ali's partner was 22-year-old shop worker Viktorija Ijevleva, who died in the explosion.
A married couple and their three sons lived in the two-storey flat above the shop.
Two of the sons – Shane Ragoobeer, 18, and Sean Ragoobeer, 17 – have been named as among the dead.
Their mother Mary Ragoobar, 46, is also thought to have died but has not been formally identified.
Shane's girlfriend Leah Beth Reek, 18, has also been named as among the dead.
On Sunday, a sixth man was arrested by police investigating the explosion.
The man, in his 40s and from East Anglia, is being held on suspicion of manslaughter.
Two other arrested men have been released under investigation.
To discuss an East Midlands story idea, contact caroline.lowbridge@bbc.co.uk.