Leicester explosion: Four people confirmed dead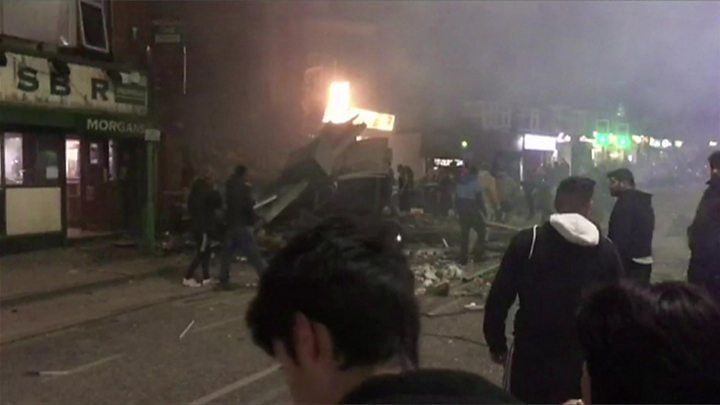 Four people have died in an explosion at a shop in Leicester, police have confirmed.
Leicestershire Police declared a "major incident" after the blast in Hinckley Road at about 19:00 GMT on Sunday.
Four other people remain in hospital, one with serious injuries, the force said.
Supt Shane O'Neill said police believe there may be more people unaccounted for and rescue efforts were continuing on Monday.
At this stage the explosion is not being linked to terrorism, he added.
The building consisted of a shop premises on the ground level and a two-storey flat above it.
Witnesses said the shop was formerly a Londis but recently became a Polish supermarket.
A senior firefighter told BBC Radio 5live four bodies were found inside the building and crew members were still searching with the hope of finding survivors.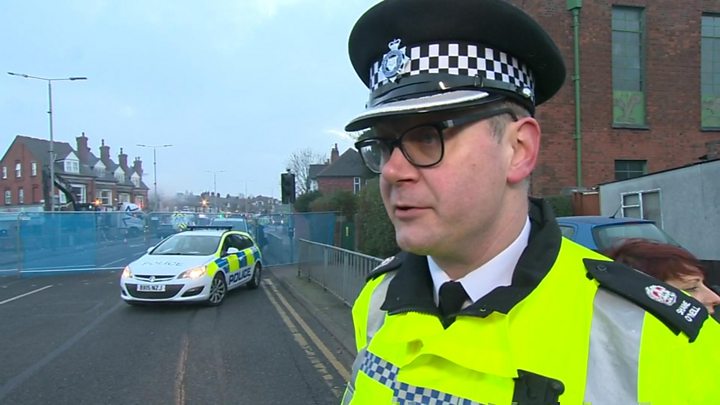 Supt O'Neill said: "It is a dangerous scene so trained officers from the fire service and police took over as soon as possible.
"I can't say at this stage [what may have caused it] but it is a joint investigation between the fire service and the police and the priority is to make the area safe."
He urged anyone who knows someone who is missing to contact police, adding: "It is still a search and rescue operation. It is important we try and find as many people as possible."
At the scene: BBC reporter John Alexander
There was a noise which sounded like the pilot light of a house boiler being lit, a loud whoosh followed by a tremor, like an earthquake.
At first I thought my boiler had exploded or my roof was falling in so ran outside, as did most of my neighbours. Then we were all asked to leave our houses.
I think the shop was open until about 22:00, most of the shops are convenience stores and takeaways along the road where the explosion was.
I tried to find out last night when we could get back in to our houses and what they thought had caused the blast but they weren't prepared to say. I was told we could return if we wanted at 04:30 and the power has been restored.
So we can get back in but the road is still closed and there is a large plume of smoke coming from the building, the fire is still burning.
Angel Namaala, who lives opposite the shop, told the BBC she heard "this big thud, like an earthquake".
She said: "The building had gone down and people were trying to help where they could by taking the bricks off. But the fire was getting bigger and bigger so people were told to leave the scene."
Hinckley Road, from its junction with Bolton Road to its junction with Woodville Road, remains closed in both directions and motorists are advised to avoid the area.
Electricity to a number of homes was affected by the explosion and a cordon was put in place.
Matt Cane, group manager at Leicestershire Fire and Rescue Service, said crews worked through the night in a bid to find survivors and casualties.
He said firefighters would be on the site for "a number of days" and it was "still too early to say" what caused the explosion.