Leeds Town Hall wedding photos 'ruined by triathlon ad'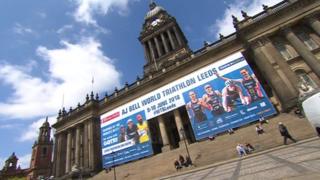 A bride-to-be says her wedding photos will be ruined by a huge advert across the front of the venue.
Sarah Dooley is due to marry fiance Andy at Leeds Town Hall – outside which couples traditionally pose for photos – at the weekend.
But they were unaware they would be sharing the stage with the advert for next month's World Triathlon.
Leeds City Council said the Town Hall was "important for promoting major events" and the banner would remain.
The sandstone facade of the picturesque Victorian building is currently hidden behind the endurance event billboard.
Ms Dooley, who met her partner while at university in Leeds, said the couple would have chosen another venue if they had known.
"We looked at tipis, castles, tree-houses, but picked Leeds Town Hall because it's iconic and we wanted our photos taken outside," she said.
"Leeds is really important to us, we brought our children up here and we wanted something that represented our relationship."
Ms Dooley said she did not want compensation but was "disappointed" that the couple were not told in advance about the banner.
Instead of photos outside the town hall, the wedding party will walk to nearby Park Square.
A spokesperson for Leeds City Council, which owns the town hall, said it "understands Miss Dooley's disappointment" but the banners would not be removed.
"Leeds Town Hall is the venue for hundreds of weddings each year and we always do our absolute best to make sure every couple's day is as special as possible", he said.
"Banners promoting next month's World Triathlon Leeds are scheduled to be in place for several weeks and unfortunately, it isn't possible to remove them for a day."
The triathlon will be held on 9-10 June.