Led Zeppelin's Jimmy Page and Robbie Williams continue planning battle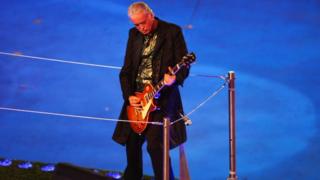 A planning battle between music icons Robbie Williams and Jimmy Page is to drag on after a council failed to reach a decision on the singer's swimming pool plans for his west London home.
Former Led Zeppelin guitarist Page had opposed Williams' proposals for a basement with pool at his home.
Neighbour Page argued that excavations would be "catastrophic" for his Grade I listed Gothic-style Tower House.
But Kensington and Chelsea Council's planning committee deferred a decision.
Disagreements between Page, 74, and Williams, 44, began four years ago when the former Take That singer bought the house next to Page – which used to belong to Michael Winner.
Page, who has lived in the Victorian Tower House since 1972, objected to Williams' plans to renovate, voicing concern that vibrations could cause irreversible damage.
Builders working for Williams were fined £3,000 for disturbing Page's peace by taking apart a shed on a Sunday.
Jimmy Page denies stealing Stairway to Heaven riff

Robbie Williams and Rod Stewart tour bus to be homeless shelter
Williams submitted proposals to the council in January to excavate a basement and build a swimming pool and gym facilities under his home.
In response, Page wrote a two-page letter to the council objecting to the project and outlining his concerns about the potential impact of digging on his home, which he described as "one of the most historic buildings in the borough".
"Having protected the Tower House for over 40 years, I am now continuing the fight against a new threat to this precious and unique building," Page wrote.
Page attended the council meeting where Williams' planning application – which had been recommended for approval by council officers – was discussed.
He told councillors: "I feel it is my duty to protect that house, I really do."
But the committee decided to defer a decision to consider what conditions and regulations might be appropriate.
After the meeting Mr Page said he was "very pleased" with the decision, adding: "I think the deferment was a very good conclusion."