Lebanon's police use tear gas to disperse protests against government economic management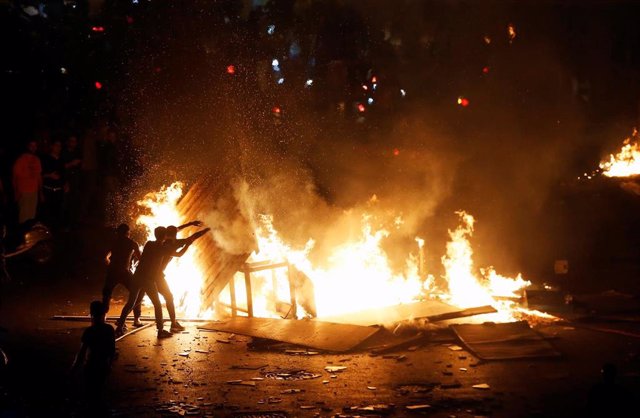 Riots during protests against the economic management of the Lebanese Government in Beirut. – REUTERS / MOHAMED AZAKIR
Two people die from a fire registered in a building near the epicenter of the demonstrations
MADRID, Oct. 18 (EUROPE PRESS) –
Lebanon's security forces made early use of tear gas this Friday to disperse protesters who have taken to the streets of Beirut, the Lebanese capital, to protest against the imposition of new taxes in the context of the economic crisis that crosses the country, as reported by the television network Al Jadeed.
Thousands of people have demonstrated throughout this Thursday in Beirut and other cities in the country, such as Sidon, in what is already one of the biggest protests in years. At the moment, it is estimated that at least 40 members of the Internal Security Forces were injured in a series of disturbances.
Protesters have blocked roads in various parts of the country and set trees on fire, as shown by images transmitted by various media. This is the second time in less than a month that protests are unleashed against the country's political elite, which aims to impose new taxes on the use of messaging applications such as Whatsapp.
As reported by the Lebanese state news agency NNA, at least two foreign workers have died from a fire registered in a building near the protest zone in the Riad al Solh square. Rescuers are trying to recover the bodies.
The announcement about the imposition of tariffs for the use of WhatsApp has caused the protests of a large number of people who were already dissatisfied with government economic policies.
Protesters, who have gathered in the center of Beirut shouting "down the Government", have met in some parts of the city with military and security forces, which had been deployed preventively to prevent them from reaching the Palace of government.
"We need a revolution," said a crowd in the capital's center. The Minister of Telecommunications, Mohamed Choucair, has indicated that the daily fee of 20 cents for using the service will not take effect. The minister said that Lebanese Prime Minister Saad Hariri, has demanded the withdrawal of the measure.
Shortly before, the Minister of Information, Jamal al Jarrá, had announced after a Cabinet meeting that he had proposed to introduce a fee of 20 cents a day or $ 6 a month for WhatsApp users as of January 1, 2020.
Protesters have called for marches on Friday, while the Ministry of Education suspended classes at schools and universities.
The controversial rates had yet to be approved by Parliament. Lebanon's telecommunications companies have suffered a 33 percent increase in losses in 2018 compared to the previous year, according to official data.
The Lebanese authorities are under pressure from the World Bank and the International Monetary Fund (IMF) to take austerity measures in exchange for financial support.