Lawsuit over Jonathan Udall's Grand Canyon crash death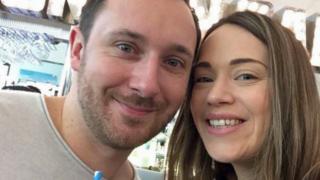 The parents of a tourist who died after a helicopter crash in the Grand Canyon are suing the tour operator and the aircraft manufacturer.
Jonathan Udall, 31, from Brighton, was on honeymoon in the United States with his wife, Eleanor Udall, nee Milward.
Both died from burns after the crash on 10 February, which killed three others.
Lawyers for Philip and Marlene Udall, of Southampton, said Papillon and Airbus Helicopters negligently failed to install a crash-resistant fuel tank.
The parents' lawsuit said their son could have survived and would not have sustained "severe and catastrophic burns" if the Airbus EC130 B4 had been fitted with such a system.
Their lawyer Gary Robb said: "Mr and Mrs Udall deeply grieve for the loss of their son but their primary motivation now is to prevent anyone else from having to suffer the deadly burn injuries as their son did."
He said the fuel system could have allowed their son to walk away "injury-free".
After the crash, Papillon announced it would fit 40 of the crash-resistant tanks to its fleet, but Mr Robb said it was "too little, too late".
The system is not currently mandatory in the US for helicopters certified before 1994.
Those named in the action against Papillon Grand Canyon Helicopters and manufacturer Airbus Helicopters are:
Pilot Scott Booth, who was injured in the crash and is accused of negligence for crashing
Papillon directors Brenda Halvorson and Elling Halvorson, president Geoff Edlund and chief operating officer John Becker. The family claim they failed to ensure the helicopter was "safe and defect-free"
Mechanic Matthew Hecker and inspector Daniel Friedman are accused of negligence over the state of the helicopter, in particular its tail rotor
The family want $195,000 (£141,000) in damages, plus punitive damages and a jury trial.
A coroner said the newlyweds both died in hospital from "complications of thermal injury".
Three others, Becky Dobson, her boyfriend Stuart Hill and his brother Jason Hill, all from Worthing, Sussex, died at the scene from multiple injuries.
Their friend Jennifer Barham, 39, was taken to hospital with critical injuries.