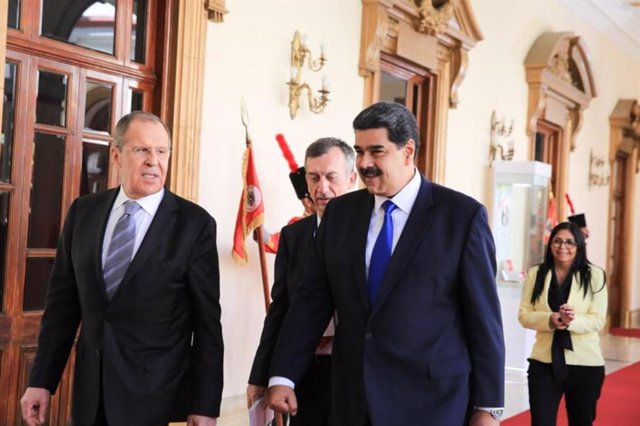 Russian Foreign Minister Sergei Lavrov and Venezuelan President Nicolás Maduro. – TWITTER
MADRID, Feb. 7 (EUROPE PRESS) –
Russian Foreign Minister Sergei Lavrov has accused the United States on Friday of promoting a "popular uprising" in Venezuela during a meeting with the National Dialogue Table and shortly before meeting with the president of the Caribbean country, Nicolás Maduro .
Lavrov meets with Maduro and accuses the US of promoting a "popular uprising" in Venezuela
Lavrov, who has labeled the sanctions imposed by Washington on Caracas as "unacceptable and illegal," has blamed the economic recession in Venezuela for "attempts to overthrow Nicolás Maduro using even force," according to local newspaper reports. The universal'.
"It is outrageous that unilateral actions by the United States affect the social," he emphasized before asserting that it is necessary to work on the issue in the United Nations Security Council through the implementation of "peaceful" measures.
In this regard, he has indicated that "the national dialogue in Venezuela is an act open to all political parties although it is clear that radical opponents are allergic to these events." "We are convinced that the ambitions of certain politicians do not have to dominate the interests of the people," he said.
Thus, he has expressed the willingness of the Russian Government to accompany Venezuela in this process. "With our efforts we will continue, I wish you success," he said.
Maduro, meanwhile, has described the meeting with Lavrov as "extraordinary" and has maintained in a message spread through his Twitter account that it is a cordial visit that "ratifies the commitment to strengthen high-level relations" Between the two countries.