'Lando is pansexual': LGBT characters that are all talk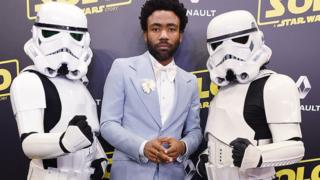 We've had Ewoks, Hutts and Jawas but it has taken 41 years of films to introduce a hint of LGBT characters to the Star Wars movies.
The writer of Solo: A Star Wars Story says iconic character Lando Calrissian is pansexual in the sci-fi series.
Just don't expect to see any LGBT romance when you head to the cinema.
People who identify as pansexual are attracted to others regardless of their gender.
Lando is played by Donald Glover in the new movie and by Billy Dee Williams in the original trilogy.
"There's a fluidity to Donald and Billy Dee's sexuality," said Jonathan Kasdan, who co-wrote Solo, in an interview with Huffington Post.
"I would have loved to have gotten a more explicitly LGBT character into this movie.
"I think it's time, certainly, for that, and I love the fluidity."
Instead, viewers rely on Lando's mild flirting with Alden Ehrenreich as Han Solo and comments from Phoebe Waller-Bridge's L3-37 to piece together the character's fluid sexuality.
"Given that Star Wars has obviously a very core – predominantly male – audience it is progress to even suggest [him not being heterosexual], but we need to do more than that," Montreal-based LGBT, film and business writer Erika Ashley tells Newsbeat.
"It's really important that LGBT people see themselves as a part of the story."
Progress maybe, but this isn't the first time people involved in a major franchise have talked about LGBT representation which never quite makes it to the screen or page.
Dumbledore's gay – just don't expect to see him hook up
In 2007 JK Rowling caused a stir with Harry Potter fans when she revealed that Dumbledore was gay.
This was the same year she released the final book in the series. But across seven instalments, his sexuality had never been committed to the page.
"Dumbledore fell in love with Grindelwald (a dark wizard in the Harry Potter universe), and that added to his horror when Grindelwald showed himself to be what he was," she told fans in New York at the time.
So when Jude Law was cast as a younger, hotter (sorry Michael Gambon) Dumbledore opposite Johnny Depp's Grindelwald in Fantastic Beasts 2, fans were disappointed at director David Yates' comments that Dumbledore's sexuality would "not explicitly" be addressed on screen.
He said the men fell in love with each other's "ideas and ideology" as well as "each other."
JK Rowling told followers on Twitter that she would mute those who attacked her for the decision to not focus on this in the film.
She wrote the screenplay for Fantastic Beasts 2.
OK, well how gay is the Marvel Cinematic Universe?
Marvel's movie A-listers are a heterosexual bunch, but LGBT hopes were raised with talk of Tessa Thompson portraying bisexual character Valkyrie in Thor: Ragnorok.
But sadly, talk is all it turned out to be.
"There were things that we talked about that we allowed to exist in the characterization, but maybe not be explicit in the film," Tessa told Rolling Stone after the movie was released.
She said a scene showing a woman leaving her bedroom was cut to make room for "vital exposition."
Erika finds it "frustrating" to see scenes like this cut from major blockbusters.
"As an LGBT person, if there's a fairly large LGBT storyline in any form of media, it's frustrating to see it cut, watered down or reduced to a very small part of the storyline when that's an endemic part of who the character is," she says.
Valkyrie's story wasn't continued in Avengers: Infinity War (the character didn't return) so all we have are Tessa's words to rely on.
Scenes which hinted at a relationship between Ayo and Okoye in Black Panther were also cut, according to actress Florence Kasumba.
Has DC done any better?
Wonder Woman is one of DC's biggest successes in the cinema but the $821 million (£608 million) it made at the box office came without fully exploring her sexuality.
Diana Prince (Wonder Woman) is bisexual in the comics, which was confirmed by writer Greg Rucka in 2016 – the year before the film hit screens.
In the movie, she left her tropical paradise (populated only by women) after falling for Chris Pine's character, Steve Trevor.
Since then, there have been petitions online and Wonder Woman star Gal Gadot has spoken of her support for showing the Amazon's sexuality on screen.
"It's not something we've explored," she told Variety magazine in 2016.
"When you talk theoretically about all the women on Themyscira (Wonder Woman's home) and how many years she was there, then what he said makes sense."
"We need to remember the movie business is, first and foremost, a business, so movie theatres and large studios aren't necessarily looking to tell a storyline that's going to decrease their numbers," adds Erika.
"So what's happened with Solo seems like a tester to see how people respond and whether there would be any negative backlash before moving forward."
We'll have to wait and see if any future films will set things straight (or not).
Follow Newsbeat on Instagram, Facebook and Twitter.
Listen to Newsbeat live at 12:45 and 17:45 every weekday on BBC Radio 1 and 1Xtra – if you miss us you can listen back here.