Lance Armstrong settles $100m US government lawsuit for $5m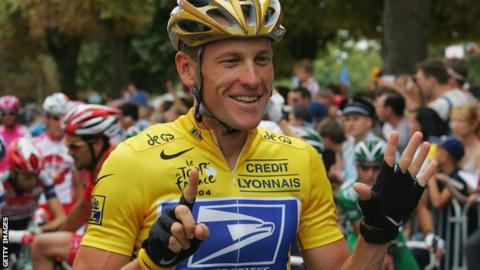 Lance Armstrong has agreed to pay $5m (£3.5m) to the US government to settle a long-running lawsuit that could have cost him $100m (£71m) in damages.
The American, 46, was accused of fraud by cheating while riding for the publicly funded US Postal Service team.
He was stripped of his seven Tour de France titles and banned from cycling for life in 2012 before admitting to using performance-enhancing drugs.
"I'm glad to resolve this case and move forward with my life," said Armstrong.
Armstrong failed to block the lawsuit last year and a trial was set for 7 May in Washington.
In a statement on Thursday, he said he was "particularly glad to have made peace with the Postal Service" despite believing their lawsuit to be "without merit and unfair".
"I have since 2013 tried to take full responsibility for my mistakes, and make amends wherever possible," he said.
"I rode my heart out for the Postal cycling team, and was always especially proud to wear the red, white and blue eagle on my chest when competing in the Tour de France. Those memories are very real and mean a lot to me.
"I'm looking forward to devoting myself to the many great things in my life – my five kids, my wife, my podcast, several exciting writing and film projects, my work as a cancer survivor, and my passion for sports and competition."
The lawsuit was filed by Armstrong's former US Postal team-mate Floyd Landis in 2010, before being joined by the government in 2013.
Landis, who was stripped of the 2006 Tour title after testing positive for a banned substance, is eligible to receive 25% of the settlement as the original claimant. Armstrong has also agreed to pay $1.65m (£1.2m) to cover Landis' legal fees.
He sued Armstrong under the federal False Claims Act, alleging Armstrong and his team defrauded the government by using banned substances while riding under the Postal Service banner.
The US Postal Service team ran from 1996 to 2004, with Armstrong winning seven Tour titles between 1999 and 2005.
The team were paid about $32m (£23m) between 2000 and 2004, with the government potentially able to pursue 'treble' damages under the lawsuit, resulting in the $100m figure.
In 2013, Armstrong agreed a settlement with the Sunday Times after it sued him for about £1m. The American had been paid £300,000 to settle a libel case in 2004 after the newspaper alleged he had cheated.
Later that year, he also settled a lawsuit brought by an insurance company that paid him $3m for successes while doping.