Lampard: Social media affects my daughters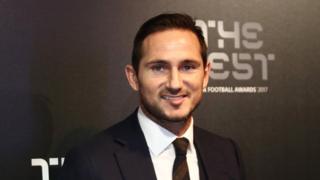 Former footballer Frank Lampard says he "senses a difference" with his daughters when they use social media.
Speaking to Emma Barnett on BBC Radio 5 live, he said he believed studies showing the impact that websites can have on young people's mental health.
But Lampard says he does his best to balance being protective and letting his 10 and 12-year-old join in with friends.
"Being a dad with two girls can be very challenging," he added.
Lampard, who has been nominated as this year's recipient of the Legend of Football Award, says whilst he tries to be supportive of his two girls, he always "keeps an eye" on their online activity.
"Social media, for me, is so different to what I grew up with and it starts so young," he said.
"You are caught between trying to protect them and maybe not throw them into the world, but when all of their friends are on social media, then of course, as a father, you try and then take baby steps and manage it as you go."
'Tough balance'
Talking about social media activity being linked in some cases with depression, the footballer said: "I agree with that. I see images, particularly for young girls, and I try and explain to my daughters that that is not necessarily real – that's not the real world – and, maybe second to that, that it's not important."
He does not "police" his children when they go online but has seen the difference it can make.
"I have sensed a difference in my daughters sometimes when they do overspend time on iPads, etc so I do try… and make sure their time spent on social media platforms is less and they get back to some basics of reading and educating themselves.
"It is a tough balance and everyone has a different idea what the balance is, but I am trying to be as aware of it as I can."
Lampard also discussed his own use of social media, having caused controversy last year for posting a picture of his wife, Christine Bleakley, and their dog on Instagram with the caption: "My two bitches".
"If I could go back in time I wouldn't do that again," he said.
"It was naïve and silly of me. I understand the current climate and wouldn't have said that."
And whilst Lampard knows his daughters are now able to search for him online and see comments posted about him, he tries to "keep it in perspective".
"Unfortunately, in the world we live in, there are a lot of people that want to say nasty things… it is very easy hidden behind a keyboard to say many things," he said.
"So you are constantly trying to teach these little messages to your daughters and then, at the end of the day, it will be for them to take on and hopefully take on in the right way."