Ladies European Tour: Melissa Reid says players need part-time jobs to make living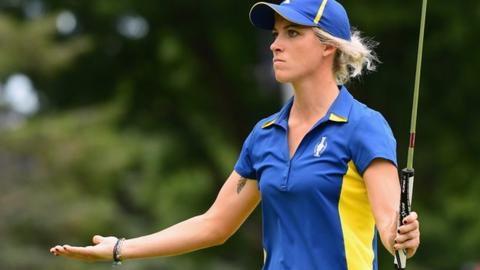 Some Ladies European Tour players are having to take part-time jobs because "it's pretty much impossible" to make a living otherwise, says Melissa Reid.
The LET has 14 scheduled events this year – a situation Reid, who joined the Tour in 2008, calls "heartbreaking".
The 30-year-old Englishwoman told BBC Sport: "The LET needs help and quickly.
"I've encouraged players to support offers we get in because it's all good fighting a cause but there's not going to be a Tour to play on soon."
The LPGA Tour in the United States was reported to be keen to help the LET but the offer was not accepted and that avenue is now closed.
Speaking on the BBC's golf podcast, The Cut, Solheim Cup player Reid added: "A lot of my friends, who have been on Tour for 12 years, have had to get part-time jobs. Golf is supposed to be the second highest paid women's sport."
She said the situation was affecting the "standard of golf" adding "they are elite athletes but if they are having to work part-time jobs how are they meant to put in the hours to get the best out of their abilities? It's just not right."
According to last year's LET rankings, England's Georgia Hall won the most money with around £325,000 from 10 events.
Spain's Carlota Ciganda, who played with Reid in last weekend's Golf Sixes, was second on that list with £140,000. Reid was eighth with £80,000.
Only the top 50 in the rankings earned more than the average UK salary of £25,000 for a woman – although BBC Sport understands that the players have to pay their own travel and accommodation costs.
In comparison, Jin Young So has earned as much money by May 2018 on the LPGA Tour in the United States than Hall did on the LET in the whole of 2017. Jin is seventh on the rankings, led by Inbee Park with £530,000.
Golf Sixes fun for the men
And the lack of money in the women's game in Europe was highlighted further for Reid at the 1m euro Golf Sixes event where the winning pair shared 200,000 euros (£175,000).
"We went for dinner with Pablo Larrazabal on Friday night and he was saying there was not much money but a fun event," said Reid, who has won six LET events.
"But for us it's a huge opportunity. It's a huge event for us, even if you put aside the money, to showcase women's golf.
"We don't get the coverage and it was a huge opportunity for us to represent women's golf and open a few more doors for the LET."
The pairs of Reid and Ciganda, representing European Women, and Georgia Hall and Charley Hull playing for England, both beat men's teams to reach the quarter-finals, although they both lost at that stage.
Reid said: "On Saturday morning I said we need to win this and make a huge statement for women's golf.
"It is one of the most gutted I've felt after an event because we could have done something special, we were playing well enough."
LET promising more events
According to the LET website, there are just three events scheduled for the summer months – two in August (one of which is the Ladies British Open), one in July and none in June.
That is in complete contrast to when Reid was named LET Rookie of the Year in 2008.
"When I first came on Tour it was thriving and we had endless tournaments where we could take weeks off," she said.
"I know there's a lack of money through sponsorship. That makes it tough for girls trying to break through as young professionals because the LET was a great place to start your career."
An LET statement said: "There are 14 events listed on the 2018 schedule, in addition to the GolfSixes, but there are still more to be announced for this year in the near future.
"The LET is in discussions with a number of leads for new tournaments next year and expects to make some exciting announcements this summer, with a view to publishing a full schedule for next year."