Labour receives 17,000 emails calling for say on Brexit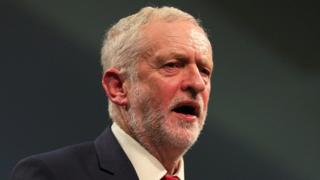 Labour has received 17,000 emails over five days from people lobbying for a clearer party policy on Brexit.
The emails, coordinated by Labour MPs and campaigners, call on Labour to give supporters "their say" by setting up a new policy commission on Brexit.
They say there is a "pressing need" for the party to set out an alternative approach to government Brexit plans.
Labour said its national policy forum, which meets in Leeds this weekend, plans to discuss the impact of Brexit.
The shadow cabinet will attend, alongside MPs, grassroots members and trade unionists to formulate ideas which could ultimately be included in Labour's next manifesto.
May: Don't block post-Brexit security deal

Merkel 'curious not frustrated' after May meeting

What does Brexit mean for Britain's spies?
Currently the national policy forum is organised into eight policy commissions, but none focuses purely on Brexit.
The emails, sent to Andy Kerr, chairman of Labour's governing body – the National Executive Committee – and national policy forum chairwoman Ann Cryer, call on the party to set up a dedicated policy commission on Brexit.
"The Labour Party is a democratic organisation and it is only right that its membership and supporter base can have their say," it says.
The party said the impact of Brexit would be considered by the eight existing policy commissions.
The emails are being coordinated by the campaign group Open Britain – which is calling for close ties with the EU after Brexit – as well as the Labour Campaign for the Single Market.
MP Heidi Alexander, one of the campaign's supporters, said the Labour party was "junking the views" of its members on Brexit.
Ms Alexander, co-chair of the Labour Campaign for the Single Market, said the party leadership was "brushing the issue under the carpet".
Labour has committed to remaining in the single market and customs union during a transition period – but the policy for what happens next is less clear.
The party leadership has said it would keep the option of a customs union on the table and would try to retain the benefits of the single market.