La Paz dawns with blockages over protests against election results in Bolivia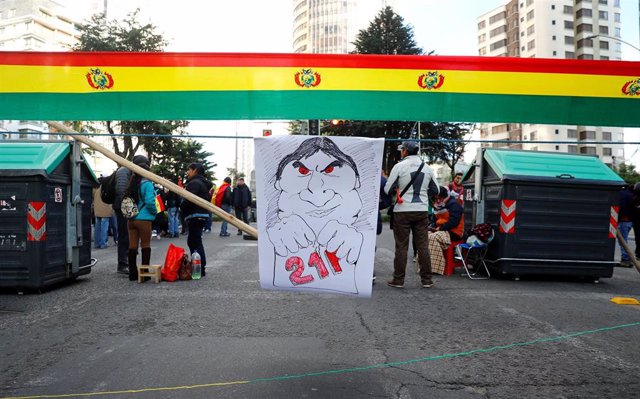 Barricade in La Paz – REUTERS / KAI PFAFFENBACH
LA PAZ, Oct. 28 (Reuters / EP) –
The capital of Bolivia, La Paz, has dawned on Monday with blocked streets and shops closed within the framework of a strike called by the opposition in protest of the election results that have granted re-election to the president, Evo Morales, questioned from the opposition ranks .
The streets of the city, with 1 million inhabitants, were almost empty and with hardly any public transport services. Nor have they opened the offices of the Mayor's Office of La Paz, in the hands of the opposition, as well as the educational centers.
In the southern part of the capital, where mainly middle-class citizens live, there have been blockades with cars, sticks and ropes. A similar scenario has spread to the humblest neighborhoods in the north of the city, according to Reuters agency witnesses.
"We are demanding that our vote be respected," said Marta Colque, 32, who looks after children in a daycare center. President Morales "wants to get away with his whim (…) stay forever" in office, Colque has lamented, next to a barricade in downtown La Paz.
The demonstrations began on October 20, after the Supreme Electoral Tribunal (TSE) suspended the counting of votes, at a time when Morales seemed to go on a second round with the main opposition candidate, Carlos Mesa. After the resumption of the count, the victory of the president in the first round was confirmed.
Mesa accused Morales on Sunday of being wrong, of not realizing that "Bolivian society is fermenting this democratic will since February 21, 2016", referring to the date of the referendum in which the citizens rejected the plans de Morales to aspire to another five-year term. The president was finally able to appear thanks to a court ruling in late 2017.
Bolivia "whole is up until Morales recognizes the fraud and we go to an electoral process," warned Mesa, who has urged citizens to mobilize on Monday. Morales, meanwhile, is planning an act called "meeting for the triumph of democracy" and in the afternoon in El Alto, a satellite city north of La Paz.