Kuwait death sentences for murder of Filipina maid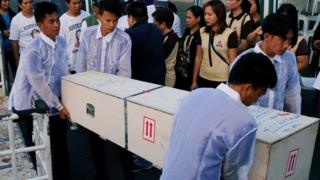 A Kuwaiti court has sentenced a married couple to death for the killing of a Filipina maid.
A Lebanese man and his Syrian wife were convicted in absentia.
The body of Joanna Demafelis was dumped in a freezer in their abandoned apartment. It was discovered in February, more than a year after the murder.
The death triggered a diplomatic crisis between Kuwait and the Philippines.
Outrage in the Philippines led to a ban on Filipinos travelling to work in Kuwait.
After Interpol launched an international search, the couple were arrested in February in Syria.
Nader Essam Assaf was handed over to the authorities in his native Lebanon, which is reportedly now considering a Kuwaiti extradition request.
His Syrian wife, Mona, is being held in custody in Damascus.
Authorities in the Philippines say they facilitated the return of more than 1,000 "distressed overseas Filipino workers" in Kuwait after the body was found. Most were household servants.
The Philippines' Department of Foreign Affairs estimates that some 252,000 of its citizens are living and working in the country.
In many Gulf countries, migrant workers obtain visas under a controversial sponsorship system known as "kafala".
The system ties immigrants, who often work as live-in maids, to their employers for the duration of their stay.