Kramp-Karrenbauer will resign as president of the CDU and will not succeed Merkel as a candidate for chancellor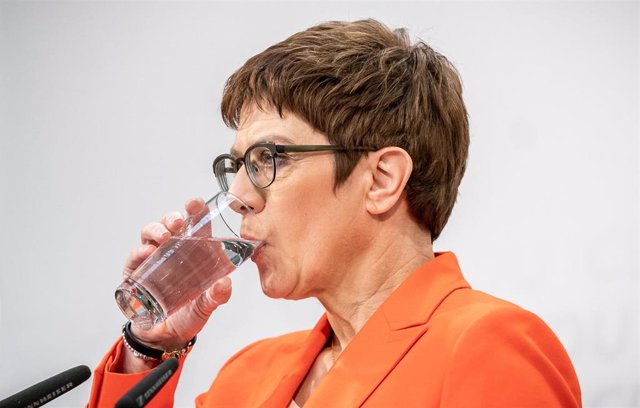 Annegret Kramp-Karrenbauer at a press conference in Berlin – Michael Kappeler / dpa
BERLIN, 10 (EUROPE PRESS)
The president of the Christian Democratic Union (CDU), Annegret Kramp-Karrenbauer, will not participate in the race to succeed Angela Merkel as chancellor of Germany, sources of conservative training have reported to the German magazine 'Der Spiegel'.
The decision of the CDU comes days after the crisis generated last week by the election of a liberal prime minister in the federated state of Thuringia with the votes of the conservative party and those of the Alternative right-wing formation by Germany (AfD).
Sources of the CDU consulted by 'Der Spiegel' have explained that Kramp-Karrenbauer has announced Monday at the executive meeting of the party that he will resign from the position of president of the CDU and that he will not choose to be a candidate for chancellor.
The same sources have said that Kramp-Karrenbauer will present the resignation as president of the party and that in summer a congress will be organized to decide who will be the candidate for chancellor in the next elections.
According to several of the participants in the CDU executive meeting on Monday, Kramp-Karrenbauer has lamented the Thuringian crisis and stressed that he is completely against any collaboration with AfD and Die Linke.
Following the announcement of his decision, German Chancellor Angela Merkel thanked Kramp-Karrenbauer for the work done and asked him to continue as Minister of Defense in his Government. Kramp-Karrenbauer succeeded Merkel as president of the CDU in December 2018.