Kosovo turns 10 but has little to celebrate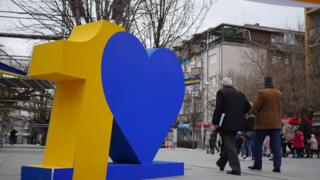 Kosovo marks its 10th birthday today, but the young country has little to celebrate. Guy Delauney highlights five goals the Balkan nation still hopes – and needs – to achieve.
1. Gain international recognition
Western media outlets often give the impression that only "Serbia and its ally, Russia" have refused to recognise Kosovo's unilateral declaration of independence. In fact, scores of countries have yet fully to acknowledge its legitimacy.
They include the world's biggest country by population, China; its largest democracy, India, and – crucially – five European Union member states – most notably Spain, whose opposition has hardened following the recent crisis in Catalonia.
As a result, the latest European Union strategy for enlargement in the Western Balkans barely mentions Kosovo, even though it is theoretically a "potential candidate" for membership. The result is a pervading sense of a state of limbo.
"People have lost hope that things can change," says policy analyst Agron Demi of Pristina's GAP Institute.
"We need the recognition of Cyprus, Greece and three other EU countries – and in the near future I don't think that will happen. We still haven't fulfilled a lot of internal criteria, especially fighting corruption."
Kosovo profile

EU enlargement: The next seven
2. Give hope to youth
Kosovo's youth unemployment rate hovers around a vertiginous 60%. Only Bosnia's young people suffer more. But Kosovo has the most youthful population in Europe – around half its people are under the age of 25.
Many of them are well-educated and multilingual. But there is little on offer for them at home – and travel abroad is complicated by Kosovo's struggles for international recognition.
It is the only part of the Western Balkans which does not have a liberalisation agreement with the European Union, which would allow visa-free travel in the Schengen area.
Agron Demi points out that this is disastrous for young people who have secured a job or university place abroad. By the time the visa has come through, the offer may have been rescinded.
Jehona Gjurgjeala, from the organisation TOKA, organises programmes to encourage young people to engage in civil society and become self-reliant. She discourages cynicism but acknowledges that Kosovo needs to offer more to its young people.
"Some progress has been made, but a lot more needs to be done," she says.
"One of our biggest potentials is youth – that sounds like an asset, but it could be a liability if we don't invest in it in the right way."
Refugee's £2.75m will wishes honoured
3. Deal with the past
Kosovo is governed by the men who fought for its independence in the 1990s. Both the President, Hashim Thaci, and the Prime Minster, Ramush Haradinaj, were leaders of the Kosovo Liberation Army (KLA).
But the past is still a burden. Mr Haradinaj has twice faced charges of crimes against humanity at the International Criminal Tribunal in The Hague. He was acquitted on both occasions. Last year, a French court refused a Serbian request to extradite Mr Haradinaj to Belgrade to face war crimes charges there.
Kosovo itself has agreed to the establishment of a special court in The Hague which will try former leaders of the KLA for crimes allegedly committed in the 1990s. It seems highly likely that some current senior political figures will face charges.
There were moves in parliament to abrogate the court – until western diplomats, led by the United States, made it clear there would be serious consequences if Kosovo refused to co-operate. Now Mr Haradinaj says the court may yet prove cathartic.
"This is a never-ending story, unfortunately. But yes, we are happy to clean our past and to answer to justice, proving what we stood for at the time, who we were, and what we stand for today."
Top Kosovo Serb politician shot dead

Ex-rebel set for Kosovo election win
4. Settle with Serbia
Serbia is obliged to normalise its relations with Kosovo before it becomes a member of the European Union. There are 35 "chapters" in its accession negotiations – one of which specifically addresses the issue.
But the obligation works both ways. Following EU mediation, Kosovo agreed to give areas with a majority of ethnic-Serb residents a degree of autonomy. But domestic opposition to this supposed concession to Serbia has been fierce – ranging from street protests to MPs letting off tear gas in parliament.
So, the agreement remains unimplemented – and mutual suspicion between the Albanian majority and the Serb minority continues. That allows nationalists of both ethnicities to use fear to manipulate the electorate.
5. Sing at Eurovision
Kosovo's former foreign minister, Petrit Selimi, would often present the much-maligned song contest as the promised land. Not because Eurovision is the peak of artistic prowess – but because of the legitimacy bestowed by participation at international events.
It is a soft-power tool to encourage diplomatic recognition – and it promotes national pride among the majority who would normally feel loyalty towards Albania.
"To see people playing and representing Kosovo contributes to a shift in narrative regarding the Kosovar state," says Besa Luci, who successfully campaigned for Kosovo to take part in the Olympics and the World Cup.
Rumours and spies in the Balkans as Russia seeks influence
"There's finally somebody else representing Kosovo. The political class have disappointed people so much they've rejected the Kosovo state. But these athletes are good examples, making people proud and embracing the concept of the state."
The much-delayed introduction of an international dialling code for Kosovo is the latest signifier of statehood. Membership of the United Nations – and indeed Eurovision – seems a rather more distant prospect.