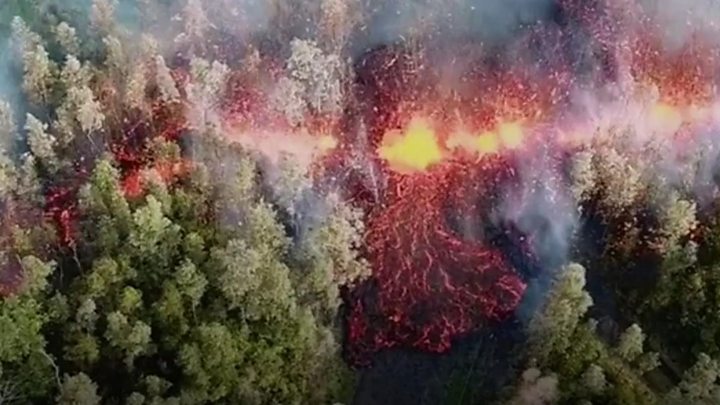 Kilauea volcano has erupted near a residential area on Hawaii's largest island, prompting a local state of emergency and the mandatory evacuation of 1,700 residents.
Streams of lava have been seen running through woods and bubbling on to roads.
Extreme levels of dangerous sulphur dioxide gas have been detected in the area, the Civil Defense Agency said.
Kilauea: Hawaii emergency declared over volcano eruption
Kilauea is one of the world's most active volcanoes and the eruption follows a series of recent earthquakes.
"It sounds like a jet engine. It's going hard," resident Ikaika Marzo told the Honolulu Star-Advertiser.
Community centres have been opened to provide shelter for evacuees.
Officials had been warning residents all week they should be prepared to evacuate as an eruption would give little warning.
A volcanic crater vent – known as Puu Oo – collapsed earlier this week, sending lava down the mountain's slopes towards populated areas.
Talmadge Mango, the civil defence administrator for Hawaii County, told the BBC that power lines had melted off their poles in one area.
"Seismic activity is still extremely high, so we feel that this might just be the beginning of things," he said.
Eyewitness Maija Stenback: 'You could feel the eruption'
We live in Leilani Estates, about six blocks away from the eruption.
We were evacuated a couple of hours ago and we are now with friends.
Within about half an hour of the eruption, it was on social media, so me and my daughter went down to look at it. You could hear and feel the eruption a good half a mile away, and the closer you got, the more you could feel it.
It was like when someone plays the bass really heavy, and you can feel the bass – you could really feel the power and the lava – the colour was unbelievable, and the sound was unbelievable.
It sounds very explosive … it's spitting out as hard as it can. It's not so much what you hear, it's what you feel.
One resident says: I'm not leaving
Hawaii's Governor David Ige says he has activated military reservists from the National Guard to help evacuate thousands of people.
Close-up footage shot by a drone showed lava emerging from a fissure in a wooded residential neighbourhood and oozing down a road.
Earlier this year, a false alert warning of an incoming ballistic missile caused panic, leading the US state to reassess its alert system.
Are you in the area? If it is safe to do so, please get in touch by emailing haveyoursay@bbc.co.uk.
You can also contact us in the following ways: