Key North Korea official meets Pompeo in New York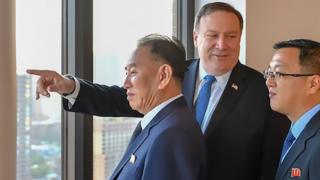 The right-hand man to North Korean leader Kim Jong-un has met US Secretary of State Mike Pompeo in New York to discuss a historic summit.
Gen Kim Yong-chol dined with Mr Pompeo after flying in from China, and the two are due to meet again on Thursday.
He is the most senior North Korean to visit the US in nearly 20 years.
US President Donald Trump cancelled the 12 June summit, but both sides have since made fresh efforts to hold it as planned.
Scheduled to happen in Singapore, the historic meeting between Mr Trump and Kim Jong-un would be the first between sitting US and North Korean leaders.
Kim Jong-un's right hand man

What does Kim Jong-un really want?

The political gamble of the 21st Century
What do we know of the first meeting?
On Wednesday evening, Mr Pompeo and Gen Kim arrived separately at a building close to the UN headquarters.
Emerging later, Mr Pompeo tweeted: "Good working dinner with Kim Yong Chol in New York tonight. Steak, corn, and cheese on the menu."
Ahead of the meeting, Mr Pompeo had set out the US position.
Skip Twitter post by @SecPompeo
Looking forward to meeting with Kim Yong Chol in New York to discuss @Potus potential summit with Chairman Kim. We are committed to the complete, verifiable, and irreversible denuclearization of the Korean Peninsula @StateDept

— Secretary Pompeo (@SecPompeo) May 30, 2018
End of Twitter post by @SecPompeo
North Korea has strongly objected to statements by Trump administration members comparing North Korean denuclearisation to Libya's.
Former Libyan leader Colonel Gaddafi gave up his nuclear programme only for him to be killed by Western-backed rebels a few years later.
Further talks are planned for Thursday.
What other talks are going on?
North Korea's Deputy Foreign Minister Choe Son-hui is continuing to meet Sung Kim, a former US ambassador to South Korea, at Panmunjom on the border between the two Koreas.
These talks have been continuing since Sunday with some long breaks.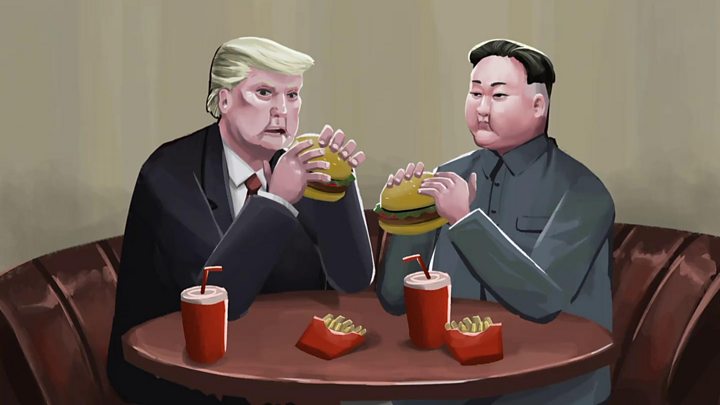 The two diplomats have faced one another before during previous denuclearisation negotiations.
In Singapore itself, a US team led by White House official Joe Hagin is thought to be meeting Kim Chang-son, the de facto chief of staff to the North Korean leader, to talk about logistics.
And Russian Foreign Minister Sergei Lavrov is in Pyongyang for talks with Mr Kim, the first time the North Korean leader has met a senior Russian official.
Mr Lavrov extended an invitation to Mr Kim to visit Moscow.
Mr Lavrov also spoke to Mr Pompeo for the first time on Wednesday, by phone.
White House spokeswoman Sarah Sanders confirmed the US and North Korean leaders still planned to meet next month.
"As the president says, if it happens, we'll certainly be ready," she said.
Salvaging a summit?
By Barbara Plett Usher, BBC state department correspondent in New York
Just months ago the idea that this powerful North Korean official could visit New York was unthinkable. Until recently Kim Yong-chol was blacklisted in the US.
A senior state department official said he and Mr Pompeo were trying to get to know each other after initial meetings in Pyongyang earlier this year.
But he also said they needed to reduce the gap between them over the extent and pace of nuclear disarmament before the summit could go ahead. He also acknowledged that the US had to find a way to convince the North Korean leadership it would be secure without such weapons.
But this high-level meeting shows that President Trump and Kim Jong-un want the summit to take place, and therefore many believe these two men will find a way to make it happen.
'My country was trying to test Trump'
Please upgrade your browser to view this content.
How Trump and Kim have changed their tone
Share this timeline