Kerry James Marshall: Record $21.1m sale for Chicago artwork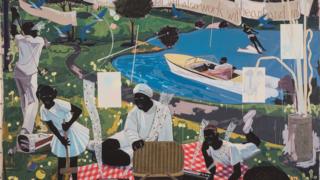 A Kerry James Marshall painting has fetched $21.1 million at auction, a record price for a work by the artist.
Chicago's Metropolitan Pier and Exposition Authority (MPEA) sold Past Times for more than 800 times what it paid in 1997.
The MPEA originally bought the piece for $25,000 from the Los Angeles Koplin Gallery.
Marshall is known for painting scenes of African-American life.
He was born in Alabama and grew up in south central Los Angeles before moving to Chicago.
The artist received a MacArthur Foundation genius grant in 1997, and previously taught at the University of Illinois at Chicago.
Marshall completed Past Times in 1997, the same year the authority bought the work.
The MPEA is required to spend a share of its budget on art for public display, and the authority currently owns more than 100 pieces of art.
The work hung in the McCormick Place Convention Centre in Chicago, accruing value.
Sotheby's estimated a sale price of between $8m-$12m once the MPEA decided to sell up, so the final price tag far exceeded expectations.
The auction house said there had been four bidders for the work. The winner has not been identified.
You may also be interested in: